Originally published at: TOKYOPOP JOINS PROMINENT MANGA PUBLISHERS TO KICK OFF 2023 ANIME NYC CONVENTION WITH A SPECIAL PANEL EVENT AT THE NEW YORK PUBLIC LIBRARY - People of Con


Author: Newsroom
Los Angeles, CA – Publisher TOKYOPOP invites anime fans and attendees heading to Anime NYC, one of the East Coast's biggest dedicated anime conventions, to catch a special off-site panel event highlighting 8 Manga You Should Add to Your Collection taking place Friday, November 17th at the New York Public Library branch located at 18 West 53rd St in Manhattan.
Join TOKYOPOP editor, Becca Chen, as she joins editors from other prominent manga publishers including VIZ Media, Yen Press, Dark Horse, Kodansha, DENPA, and Inklore for an insightful session to be moderated by the NYPL's Children's Librarian, Douglas Varney. Each participant will highlight notable manga titles they love that need to be known, read, and cherished. Fans and other industry professionals are cordially invited.
The details are listed below:
During the panel, Becca Chen will highlight two manga with particular focus on LGBTQ issues – WHY I ADOPTED MY HUSBAND, by Yuta Yagi, and AT 30 I REALIZED I HAD NO GENDER: LIFE LESSONS FROM A 50-YEAR-OLD AFTER TWO DECADES OF SELF DISCOVERY, by Shou Arai. Both titles are published under TOKYOPOP's "Comics That Matter" initiative that utilizes the graphic novel medium to raise awareness about important causes and social issues.
WHY I ADOPTED MY HUSBAND is part memoir, part informational literature that highlights the importance of legally recognized unions when it comes to matters of hospital rights, inheritance, and the everyday privileges many people in Japan may take for granted. This nonfiction work is told in an approachable tone with plenty of humor; ultimately, it's an inspiring story of the triumph of love.
AT 30 I REALIZED I HAD NO GENDER is an autobiographical manga that explores Japanese culture surrounding gender, transgender issues and the daily challenges faced by gender minorities and members of the LGBTQIA+ community with a lighthearted, comedic approach. 
More info follows below: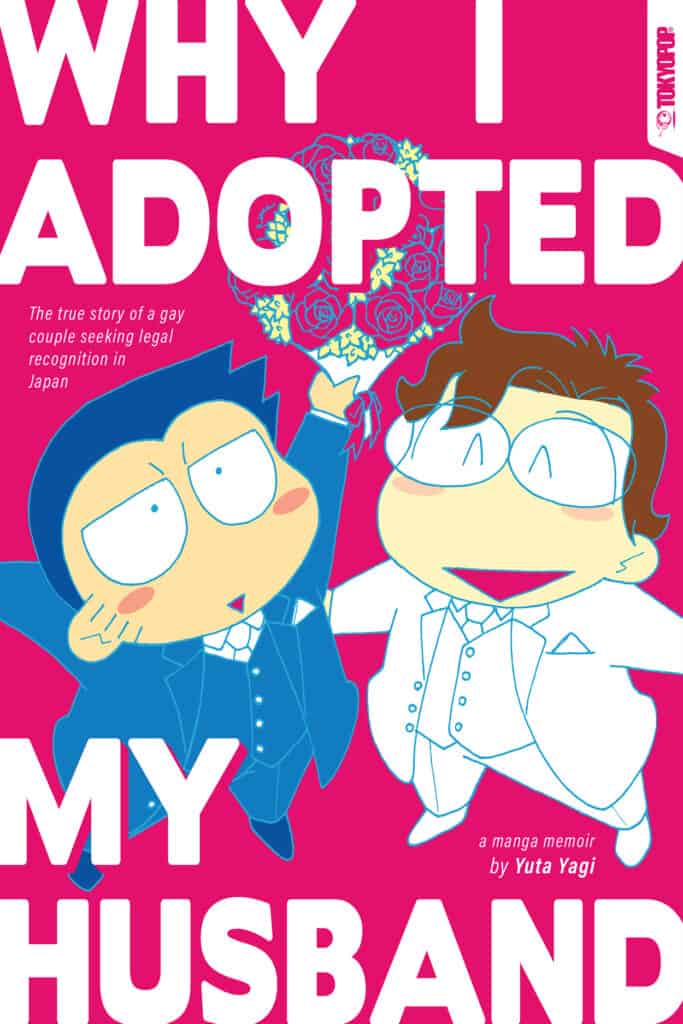 WHY I ADOPTED MY HUSBAND, story and artwork by Yuta Yagi · SRP: $12.99 · 148 pages · ISBN: 978-1427873385 · Available Now
As a gay couple living in Japan (where gay marriage is not yet legal), Yuta and Kyota found a unique loophole to live together and support one another financially, legally, and medically; Kyota adopted Yuta. This nonfiction manga depicts how they met, living together, discussions with their parents, and their future anxieties and determination as they strive for independence and equal rights under Japanese law. 
Yuta Yagi is a self-described otaku living in Japan with his partner, Kyota. He is best known for his autobiographical manga, WHY I ADOPTED MY HUSBAND.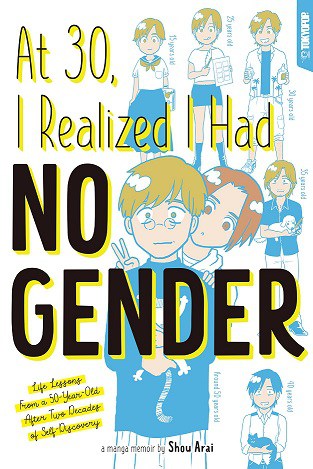 AT 30 I REALIZED I HAD NO GENDER: LIFE LESSONS FROM A 50-YEAR-OLD AFTER TWO DECADES OF SELF-DISCOVERY, story and art by Shou Arai ∙ Print SRP: $13.99 ∙ 180 pages ∙ ISBN: 978-1427873453 ∙ For Ages 13 ∙ Available Now
At age 30, Shou Arai realized that he had no gender. Now he was faced with a question he'd never really considered: how to age in a society where everything is so strongly segregated by gender?
Shou Arai (he/him) is an intersex transgender manga creator born and raised in Japan. Arai has published numerous titles about gender identity including Chuusei Furo e Youkoso!, Seibetsu R (Revolution)!, and Ano Koro wa Joshi Kousei, and also starred in the documentary film, Seibetsu ga, nai! Intersex Mangaka no Queer na Hibi, directed by Shogo Watanabe.
Anime NYC is New York City's biggest anime convention and takes place November 17-19 at the Jacob Javits Convention Center. A showcase of the best of Japanese pop culture in the biggest city in America, Anime NYC brings anime fans and publishers together for three days of unique exhibits, exclusive screenings, extensive panels, and appearances by some of the biggest creators in Japan. Anime NYC is a creation of LeftField Media, a boutique event company made up of dedicated fans and experienced convention organizers. Details and ticket info available at: https://animenyc.com.
Follow TOKYOPOP Online: 
TOKYOPOP on Twitter/X: https://twitter.com/TOKYOPOP
TOKYOPOP on Instagram: https://www.instagram.com/tokyopop
TOKYOPOP on Facebook: https://www.facebook.com/TOKYOPOP
TOKYOPOP Official Website: https://www.tokyopop.com/
TOKYOPOP on TikTok: https://www.tiktok.com/@tokyopop