Originally published at: https://geektherapy.org/tokyopop-highlights-notable-manga-and-graphic-novel-titles-for-the-2023-holiday-season/


Author: Newsroom
Los Angeles, CA – Publisher TOKYOPOP gets readers into the holiday spirit as it highlights a selection of manga and graphic novel titles that will make especially appropriate gift ideas this holiday season for that special pop culture fan, friend or loved one.
The titles selected by TOKYOPOP's editorial team includes CAPTAIN LASERHAWK: A BLOOD DRAGON REMIX, an original boys' love manga inspired by the Netflix anime series featuring alter egos of characters from the hit Ubisoft video games in a highly referential homage to the early 90s.
A pair of titles from TOKYOPOP's Disney Manga Collection are also highlighted with DISNEY MANGA: TIM BURTON'S THE NIGHTMARE BEFORE CHRISTMAS – THE BATTLE FOR PUMPKIN KING and DISNEY MANGA: MACY'S JOURNAL – A GUIDE TO AMPHIBIA. 
TOKYOPOP also highlights three titles from "Comics That Matter" initiative that utilizes the graphic novel medium to raise awareness about important causes and social issues. These include GUARDIAN OF FUKUSHIMA, WHY I ADOPTED MY HUSBAND and AT 30 I HAD NO GENDER: LIFE LESSONS FROM A 50-YEAR-OLD AFTER TWO DECADES OF SELF-DISCOVERY.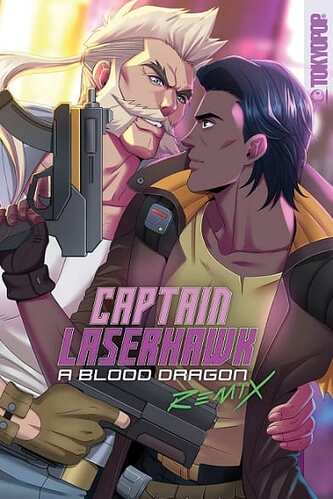 CAPTAIN LASERHAWK: A BLOOD DRAGON REMIX, story by Ben Kahn, art by Bayou Kun ∙ SRP: $14.99 ∙ 176 pages ∙ ISBN: 978-1427874047 ∙ Available December 14th
Dolph Laserhawk, the once powerful and illustrious super-soldier stationed under the oppressive Eden mega-corporation, stands at a crossroads between staying a mindless killing machine under Eden's control and joining a band of rebel outcasts on a risky undercover mission. Before he can finally be free of the manipulative forces surrounding him, he must relive the best and worst moments of his life. Using Holloway's VR technology, he walks through his memories of living as a penniless deserter, meeting and abandoning the love of his life, and coming to terms with the truth behind his passionate and tumultuous love affair with Alex Taylor – the ruggedly handsome criminal mastermind who once saved his life.
Immerse yourself in the first-hand accounts of Captain Laserhawk's tragic past through this introspective manga adaptation featuring all-new scenes that explore Dolph's conflicting thoughts and motivations leading up to the most memorable moments in his life.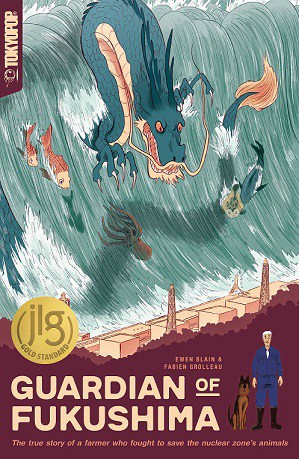 GUARDIAN OF FUKUSHIMA, written by Fabien Grolleau, artwork by Ewen Blain ∙ 144 Pages ∙ Print MSRP: $19.99 ∙ ISBN: 978-1427871367 ∙ Available Now
It was March 11, 2011 when a massive earthquake triggered a devastating tsunami, which, in turn, destroyed the cores of three reactors of the Fukushima nuclear power plant in Japan. This tragedy cost almost 20,000 lives and devastated countless more, including that of Naoto Matsumura, a farmer evacuated from the deadly radiation zone.
Unwilling to abandon his beloved animals, Naoto chooses to return home to his farm — and to fight for the beauty of life. This important graphic novel originating from France alludes to timeless Japanese legends as an ode to Mother Nature, and human resilience.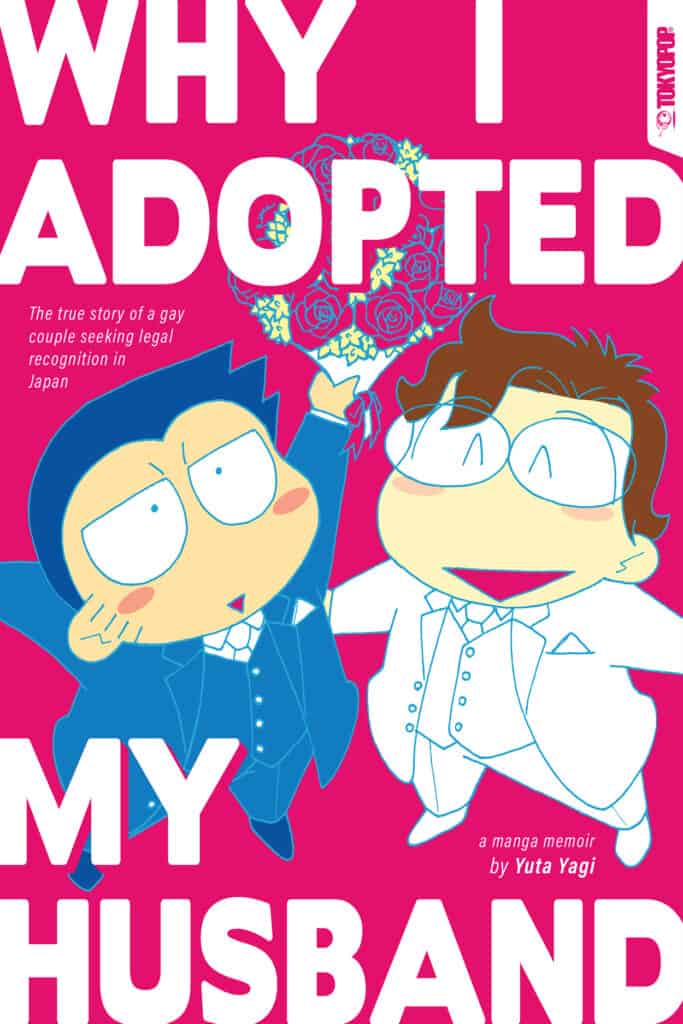 WHY I ADOPTED MY HUSBAND, story and artwork by Yuta Yagi ∙ SRP: $12.99 ∙ 148 pages ∙ ISBN: 978-1427873385 ∙ Available Now
As a gay couple living in Japan (where gay marriage is not yet legal), Yuta and Kyota found a unique loophole to live together and support one another financially, legally, and medically; Kyota adopted Yuta. This nonfiction manga depicts how they met, living together, discussions with their parents, and their future anxieties and determination as they strive for independence and equal rights under Japanese law. 
Yuta Yagi is a self-described otaku living in Japan with his partner, Kyota. He is best known for his autobiographical manga, WHY I ADOPTED MY HUSBAND.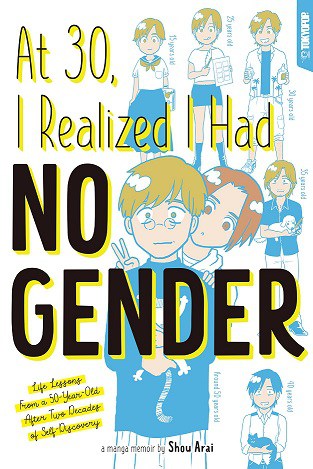 AT 30 I REALIZED I HAD NO GENDER: LIFE LESSONS FROM A 50-YEAR-OLD AFTER TWO DECADES OF SELF-DISCOVERY, story and art by Shou Arai ∙ Print SRP: $13.99 ∙ 180 pages ∙ ISBN: 978-1427873453 ∙ Available Now
At age 30, Shou Arai realized that he had no gender. Now he was faced with a question he'd never really considered: how to age in a society where everything is so strongly segregated by gender? This autobiographical manga explores Japanese culture surrounding gender, transgender issues and the daily challenges faces by gender minorities and members of the LGBTQIA+ community with a lighthearted, comedic approach.
Shou Arai (he/him) is an intersex transgender manga creator born and raised in Japan. Arai has published numerous titles about gender identity including Chuusei Furo e Youkoso!, Seibetsu R (Revolution)!, and Ano Koro wa Joshi Kousei, and also starred in the documentary film, Seibetsu ga, nai! Intersex Mangaka no Queer na Hibi, directed by Shogo Watanabe.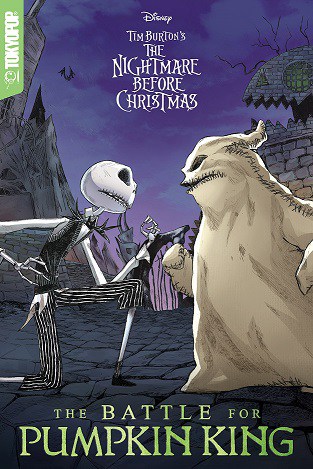 DISNEY MANGA: TIM BURTON'S THE NIGHTMARE BEFORE CHRISTMAS: THE BATTLE FOR PUMPKIN KING, story by Dan Conner, Shaun McLaughlin and D.J. Milky, art by Deborah Allo and Roberto Scalia ∙ SRP: $15.99 ∙ 128 pages ∙ ISBN: 9781427868435 ∙ Available Now
Jack Skellington is the undisputed Pumpkin King of Halloween Town. But it wasn't always that way… Years ago, Jack and Oogie Boogie were close friends. Eager to prove themselves, they poured all their passion into their creepy projects to earn their rightful place as the scariest duo in town. But there could only be one Pumpkin King! What could have happened to turn two best friends into such bitter rivals?
Written by Dan Conner (DisneyTim Burton's The Nightmare Before Christmas: Zero's Journey), with story by Shaun McLaughlin and D.J. Milky, and art from Deborah Allo and Roberto Scalia, this full-color graphic novel series is another deep dive into the holiday-themed world originally created by Tim Burton.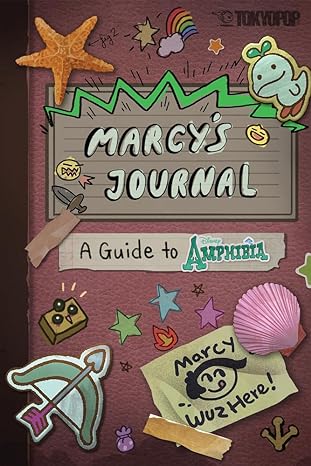 DISNEY MANGA: MACY'S JOURNAL – A GUIDE TO AMPHIBIA, story by Adam Colas and Matthew Braly, art by Catharina Sukiman ∙ Hardcover SRP: $22.30 ∙ Softcover SRP: $16.99 ∙ 176 pages ∙ Hardcover ISBN: 9781427871527 ∙ Softcover ISBN: 9781427871756 ∙ Available Now
Amphibia chronicles the adventures of three best friends who find themselves magically transported to the world of Amphibia, a wild marshland tropical island full of anthropomorphic amphibians and dangerous beasts. The three girls are separated when they arrive in Amphibia, and Marcy finds herself living in the Newt controlled city of Newtopia. Science-minded, she uses her journal to catalogue and record the flora, fauna, and culture of the fantasy creatures in this new world.
This faithful recreation of Marcy's journal chronicles her adventures in the magical world of Amphibia. Packed to the brim with new character insights, world-building lore, and untold stories, this book is a must-own for any Amphibia fan! The hardcover edition comes with an exclusive reversable dust jacket featuring a map of Amphibia, drawn by show creator Matt Braly.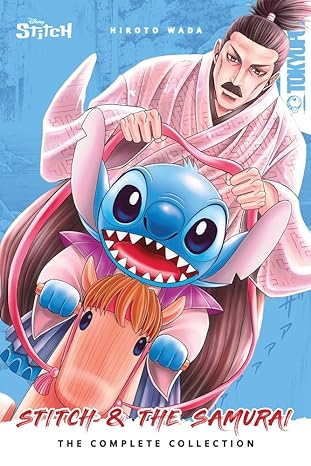 DISNEY MANGA: STITCH AND THE SAMURAI: THE COMPLETE COLLECTION, story and art by Hiroto Wada ∙ SRP: $19.99 ∙ 564 pages ∙ ISBN: 978-1427873880 ∙ Available Now
While fleeing the Galactic Federation, Stitch's spaceship malfunctions and he makes an emergency landing… not in Hawaii, but in sengoku-era Japan! Discovered by the brutal warlord Lord Yamato and his clan, Stitch's incomparable cuteness is no match for the battle-weary samurai, who decides to bring the "blue tanuki" home with him. Will Stitch's love of chaos turn into a