Originally published at: TOKYOPOP ANNOUNCES THE TENSE BL MURDER MYSTERY MANGA SERIES LOVE MURDER BASKETBALL -


Author: Newsroom
Los Angeles, CA – Publisher TOKYOPOP highlights a gripping and gritty new BL release that weaves a tense cat and mouse murder mystery against the backdrop of professional sports as it announces the launch of LOVE MURDER BASKETBALL on November 28th.
The new series will be published under TOKYOPOP's LoveLove imprint and features story by Kurutta Hito and artwork by Tsunderuuu. LOVE MURDER BASKETBALL is based on a hit OEL webtoon that has been read more than 360 million times and currently enjoys more than 45K subscribers. The print release from TOKYOPOP also will be published digitally.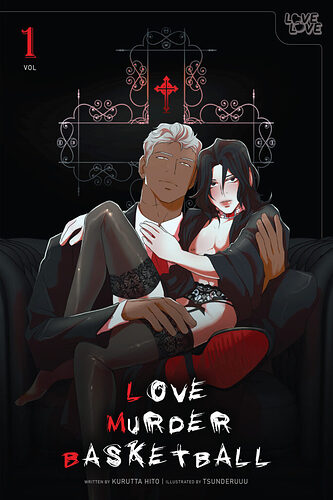 LOVE MURDER BASKETBALL, Vol. 1, story by Kurutta Hito, artwork by Tsunderuuu ∙ Print SRP: $19.99 ∙ 304 pages ∙ ISBN: 978-1427874528 ∙ For Mature Readers (18+) ∙ Available November 28th. 
Available for the first time completely uncensored!
As the son of one of the most infamous Yakuza bosses in Japan, Shoto Tanaka's life is anything but ordinary. Then he meets the most popular athlete in Japan, Goro Nakamura. Goro is used to putting on a show for the public, and since he comes of a family of wealth and notoriety, he is frequently in the limelight. Shoto, like many others, is captivated by Goro's icy charisma. 
What Shoto doesn't yet know is that Goro is also the infamous "Animosity Serial Killer." In what ways will Goro and Shoto's profound devotion to each other and their conflicting ideologies impact their complex relationship and those around them?
This bloody BL thriller is for mature readers (18+) who enjoy dark psychological themes, suspense, and a side of horror with their romance.
"Love Murder Basketball is a mature-themed comic about two men trying to find their purpose in a harsh world," says writer/creator Kurutta Hito. "It focuses on the twisted and obsessive relationship between Goro Nakamura and Shoto Tanaka. Goro is psychopathic serial killer who cannot comprehend basic human emotions, while Shota is a young man who suffers from severe trauma and one who tends to feel too many emotions."
The creator further notes how the race of one of the main characters also impacts his story arc.
"Goro is Blasian (Black & Asian) and I, too, am Blasian and have faced many of the same challenges, including prejudice, cultural differences, and identity crisis," explains Kurutta Hito. "It's difficult to grow up as someone who is a combination of two ethnicities and cultures. You often feel out of place, unsure of which direction to go; you're too dark for your Asian side and too light for your Black half. I wanted to explore these themes in the story.
"I was drawn to create a character who was unique to what we see in a traditional BL story. It is extremely rare to see BIPOC or partly Black lead characters in this genre. I also wanted to portray his family's Black side and hope this release presents new avenues to also inspire individuals of color who want to portray BIPOC main characters."
Learn more about TOKYOPOP's LoveLove imprint at: http://LoveLove.ai