Originally published at: https://geektherapy.org/tokyopop-announces-captain-laserhawk-a-blood-dragon-remix-a-boys-love-manga-inspired-by-the-netflix-animated-series/


Author: Newsroom
Los Angeles, CA – Publisher TOKYOPOP announced the forthcoming launch on December 14th of CAPTAIN LASERHAWK: A BLOOD DRAGON REMIX, an original new boys' love manga inspired by the Netflix anime series featuring alter egos of characters from the hit Ubisoft video games in a highly referential homage to the early 90s.
The Netflix series follows Dolph Laserhawk, a rebel super-soldier who escaped the army and planning a final big heist with Alex Taylor before they sail into the sunset. The show was created by Adi Shankar (producer of Netflix's Castlevania series) and is currently streaming.
"I'm so thankful to Adi, Ubisoft, and TOKYOPOP for letting me play in this wonderful sandbox that they've created," says Ben Kahn. "I can't wait for fans to see how Dolph Laserhawk's doomed romance began, and how it irrevocably set him on his current path."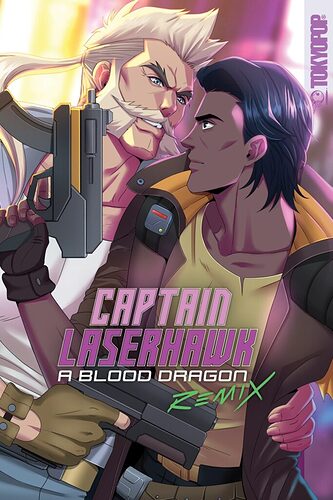 CAPTAIN LASERHAWK: A BLOOD DRAGON REMIX, story by Ben Kahn, art by Bayou Kun ∙ SRP: $14.99 ∙ 176 pages ∙ ISBN: 978-1-4278-7404-7 ∙ Available December 14th
Dolph Laserhawk, the once powerful and illustrious super-soldier stationed under the oppressive Eden mega-corporation, stands at a crossroads between staying a mindless killing machine under Eden's control and joining a band of rebel outcasts on a risky undercover mission. Before he can finally be free of the manipulative forces surrounding him, he must relive the best and worst moments of his life. Using Holloway's VR technology, he walks through his memories of living as a penniless deserter, meeting and abandoning the love of his life, and coming to terms with the truth behind his passionate and tumultuous love affair with Alex Taylor – the ruggedly handsome criminal mastermind who once saved his life. 
Immerse yourself in the first-hand accounts of Captain Laserhawk's tragic past through this introspective manga adaptation featuring all-new scenes that explore Dolph's conflicting thoughts and motivations leading up to the most memorable moments in his life. 
Ben Kahn is a GLAAD Media Award-nominated writer who has worked with a variety of publishers, including Scout Comics, Dark Horse, and Scholastic. For CAPTAIN LASERHAWK, Ben drew inspiration from years of writing experience and a lifetime of loving manga.