Originally published at: https://geektherapy.org/tickets-on-sale-now-for-academy-award-winner-hayao-miyazakis-the-boy-and-the-heron-opening-in-new-york-and-los-angeles-on-november-22nd/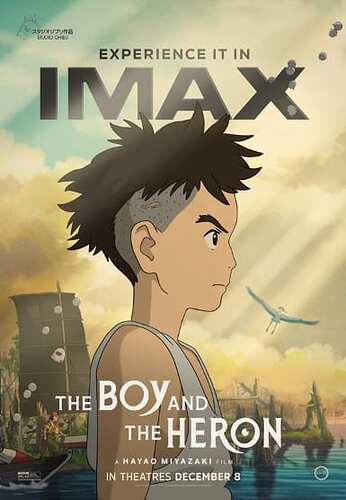 Author: Newsroom
Tickets are now on sale for THE BOY AND THE HERON, the highly anticipated new film from legendary, Academy Award-winning Hayao Miyazaki. Distributed by GKIDS, this latest feature from Japan's celebrated animation house, Studio Ghibli, opens at the Angelika Film Center in New York and the AMC Burbank 16 in Los Angeles starting November 22nd, and additional markets nationwide starting December 8th. A full list of markets can be found at TheBoyAndTheHeron.com
THE BOY AND THE HERON made its international premiere as Opening Night Gala of the 48th Toronto International Film Festival on September 7th. Tickets to all five TIFF screenings sold out in record time, and the film received glowing reviews and placed top three for the TIFF People's Choice Awards. The film made its U.S. premiere at the New York Film Festival, its European Premiere as the Opening Night of San Sebastian International Film Festival, and made its UK premiere at the BFI London Film Festival. The film was presented in IMAX at LA's Chinese Theater on October 18 as Opening Night of the Animation is Film Festival.
Synopsis: 
A young boy named Mahito yearning for his mother ventures into a world shared by the living and the dead.There, death comes to an end,and life finds a new beginning. A semi-autobiographical fantasy about life, death, and creation,in tribute to friendship,from the mind of Hayao Miyazaki.
Hayao Miyazaki's first feature film in 10 years, The Boy and the Heron is a hand-drawn, original story written and directed by the Academy Award®-winning director. Produced by Studio Ghibli co-founder Toshio Suzuki, the film features a musical score from Miyazaki's long-time collaborator Joe Hisaishi. The theme song for the film "Spinning Globe" was penned and performed by global J-pop superstar Kenshi Yonezu.
Original Story and Screenplay Written and Directed By: Hayao Miyazaki
Producer: Toshio Suzuki
Executive Producers: Koji Hoshino, Goro Miyazaki, Kiyofumi Nakajima
Production: Studio Ghibli
Music: Joe Hisaishi
Theme Song: "Spinning Globe", Lyrics, Music and Performed by Kenshi Yonezu
Supervising Animator: Takeshi Honda
Art Director: Yoji Takeshige
English Language Cast: Christian Bale, Dave Bautista, Gemma Chan, Willem Dafoe, Karen Fukuhara, Mark Hamill, Robert Pattinson, Florence Pugh