Originally published at: TICKETS ON SALE NOW | BLUE FOX ENTERTAINMENT'S "THE WOLF AND THE LION" - People of Con


Author: Newsroom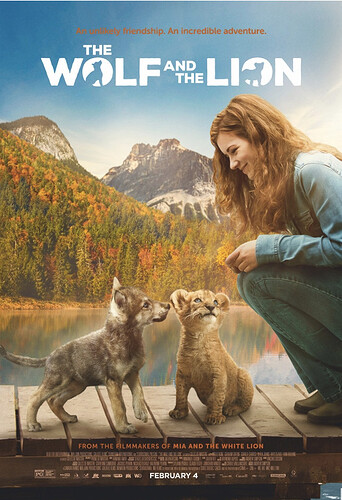 Los Angeles, CA (January 31, 2022) – Blue Fox Entertainment announced today that tickets are officially on sale for theatrical showings of Gilles de Maistre's (Mia and the White Lion) latest feature THE WOLF AND THE LION. The film will be released nationwide on Friday, February 4. Tickets for theatrical showings nationwide are available now at Tickets.BlueFoxEntertainment.com/TheWolfandtheLion.
Blue Fox Entertainment is promoting its wide release of the family film THE WOLF & THE LION with special handouts at select theaters across the US. Opening weekend a limited amount of ticket buyers will be given an activity kit which allows young viewers to learn and explore more about wolves, lions, and the importance of animal and habitat conservation.
Additionally, at select theaters, Blue Fox Entertainment is partnering with Panthera and Gifts For Change to hand out special limited edition THE WOLF AND THE LION bracelets for a select amount of ticket buyers. The bracelets are created by Gifts for Change, an innovative non-profit which creates eco-friendly and customizable objects which give back to charities.
For each bracelet with purchase of a theater ticket, $1 is donated to the protection of lions through Panthera, a nonprofit devoted to the conservation of the world's 40 species of wild cats and the vast ecosystems they inhabit. Each bracelet supports Panthera, an organization devoted to ensure a future for wild cats and the vast landscapes on which they depend.
After her grandfather's death, 20-year-old Alma decides to go back to her childhood home – a little island in the heart of the majestic forest. While there, she rescues two helpless cubs: a wolf and a lion. They forge an inseparable bond, but their world soon collapses as the forest ranger discovers the animals and takes them away. The two cub brothers must now embark on a treacherous journey across the wilderness to be reunited with one another and Alma once more.
THE WOLF AND THE LION stars Molly Kunz, Graham Greene, and Charlie Carrick and is written by Prune de Maistre. The film is produced by Sylvain Proulx, Claude Léger, Jonathan Vanger, Jacques Perrin, Nicolas Elghozi, Valentine Perrin, Gilles de Maistre, and Catherine Camborde.