Originally published at: https://geektherapy.org/the-wing-presents-the-world-premiere-of-the-warrior-queen-of-jhansi/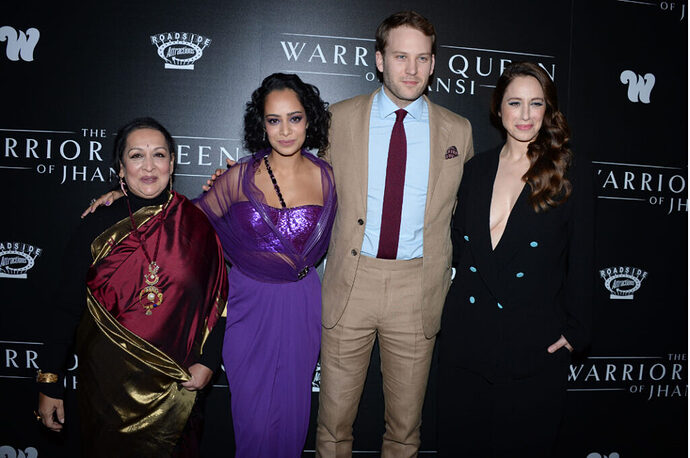 Author: Newsroom
NEW YORK (November 14th, 2019): The world premiere of THE WARRIOR QUEEN OF JHANSI ahead of its US & Canadian release on November 15th took place last night at New York's Metrograph theatre in association with The Wing, a network of work and community spaces designed for women with over 10,000 members and spaces throughout the US and London.
Empowering women has been a crucial philosophy underlying the business and management of Cayenne Pepper Productions. This film is a salute to this iconic warrior whose empowered spirit continues to stay relevant 180 years post her demise.
The "Spirit of The Rani" award was presented to activist and civil rights attorney Monica Ramirez for her remarkable work in the eradication of gender-based violence and the promotion of gender equity and Yari Blanco for her incredible work in founding The Girl Mob and other diversity initiatives at The Wing and other media platforms.
Director, Producer & Writer Swati Bhise said, "This is a film I want to share globally. Her story crosses country, culture and gender as it resonates on every level of humanity, strength and endurance. It is a story of female empowerment, more relevant now than ever, and can be drawn upon to inspire women all around the world. Cayenne Pepper Production, and its team, is proud to bring the real wonder woman onto the global platform from 1857 to 2019."
The screening was followed by an engaging conversation with the director and cast about the journey of making the film with Caroline Modarressy-Tehrani, Emmy-nominated correspondent, producer and writer.
The Warrior Queen of Jhansi releases on November 15th 2019 in USA distributed by Roadside Attractions. 
SYNOPSIS: The Warrior Queen of Jhansi tells the true story of the legendary Rani (translation: Queen) of Jhansi, a feminist icon in India and a fearless freedom fighter. In 1857 India, this 24-year old General led her people into battle against the British Empire earning the reputation as the Joan of Arc of the East. This real-life Wonder Woman's insurrection shifted the balance of power in the region and set in motion the demise of the notorious British East India Company and the beginning of the British Raj under Queen Victoria.