Originally published at: Shaqtoberfest: A Spooky Season Spectacle at the Queen Mary! 🎃👻 - People of Con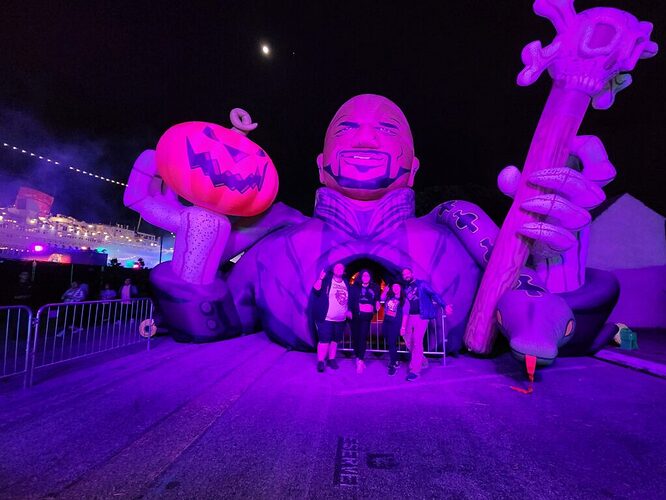 Author: Ariel Landrum
Imagine celebrating Halloween not just anywhere but aboard a historic ship with basketball-themed horrors and carnival delights. This year, I embarked on such a thrilling adventure to Shaqtoberfest, held at the iconic Queen Mary in Long Beach, CA. And let me tell you, it was nothing short of a spooky season spectacle!
Unlike the misty ambiance of the Haunted Hayride or the whimsical charm of the Magic of the Jack O'Lanterns, Shaqtoberfest offers a unique blend of history, horror, and heaps of fun. The RMS Queen Mary, once a luxury cruise liner turned wartime vessel, is now the haunting backdrop for this festive event. Its corridors echo with tales of the Grey Ghost, and this year, we were invited to step inside and meet the spirits that lurk within.
But it's not just about the ship. The festival grounds were buzzing with excitement! From navigating stormy shores filled with undead seafarers to the haunted trails that promise chills and thrills at every turn.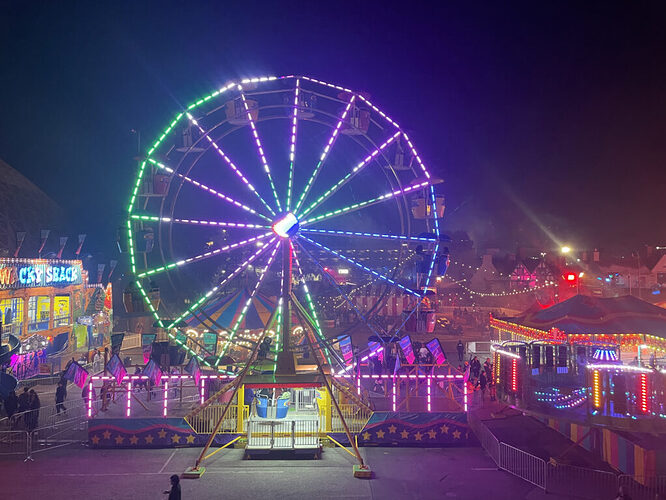 Step into the heart of Shaqtoberfest, and the electrifying energy of Midway Madness will greet you. This carnival-themed section was a whirlwind of fun and frights! We had a blast in the fun house, especially when we got to playfully blast haunt maze attendees with air, turning the tables on the usual scare dynamics. The carnival rides added a nostalgic touch, from the towering Ferris wheel offering panoramic views of the festival to the adrenaline-pumping bumper cars. It felt like a fall festival park but with a twist—creepy clowns roamed around, adding eerie excitement to the atmosphere.
At the heart of Shaqtoberfest lies the Cult of Calabaza, a pumpkin-filled haven teeming with activities for all ages. Known as the Pumpkin Patch, this area offers a plethora of delights for younger attendees. Little ghouls and goblins can revel in bouncy castles and giant slides, all in a space designed to be less intimidating, with fewer roaming horror monsters. Meanwhile, adults aren't left out of the fun. The festival boasts an array of bars, ensuring that those 21 and up can savor everything from tropical cocktails at the Tiki Bar to craft beers at Diesel's Boathouse.
Prioritizing inclusivity, Shaqtoberfest is designed with accessibility in mind. Ample seating, relaxation zones, and dining areas ensure that everyone can fully immerse themselves in the festivities regardless of mobility. The expansive block party and themed bars ensure diverse experiences, catering to every palate and preference.
At Shaqtoberfest, the dedication and enthusiasm of the staff, security, and actors were immediately evident. They were friendly, helpful, and fully immersed in their roles, enhancing the overall experience. The event's open layout ensured that attendees rarely faced long waits, and if they did, alternative attractions were just around the corner.
The diversity of actors went beyond the traditional scare actors. There was a vibrant mix of party and DJ dance performers, all perfectly in theme. Adding a touch of Shaq's basketball legacy, we saw zombie basketball players, cheerleaders, and refs. They danced and showcased iconic basketball moves with a spooky twist, creating a unique blend of sports and horror. Attendees could easily transition from spine-chilling encounters to letting loose and partying with these characters. They were also very approachable and ready for a photo op.
The LVCRFT Block Party Stage was a pulsating hub of energy. With DJ Reaper and Skeleton Sam dropping Halloween hits, the party vibes were sky-high all night. And for a unique experience, the Witching Hour was a must-attend! Just 30 minutes after the festival gates opened, this ghoulish spectacle unfolded. Shaq summoned his minions, and they rose in a grand celebration of Halloween. It was a sight to behold and definitely not to be missed!
For those looking for an elevated experience, the VIP Slam Dunk Admission offers a plethora of perks. VIPs gain exclusive access to "Captain Shaq's Secret Hideaway," where they can toast to the pirate's life with a complimentary shot of rum punch and enjoy priority access to the Pirates Cove haunted trail. They can also embark on a spirit-led tour of the Queen Mary's Engine Room for an exclusive haunted historical experience. And that's not all! The VIP Slam Dunk Lounge awaits, offering stunning views of Shaqtoberfest, exclusive photo ops, relaxed seating, and a full-service bar. Truly a VIP experience like no other!
The inclusivity of Shaqtoberfest was evident in its offerings. From the scare actors who were just the right amount of spooky for younger attendees to the VIP perks that catered to those seeking an elevated experience, there was something for everyone. The complimentary drinks for VIP ticket holders were generous, setting the event apart from many others in its league.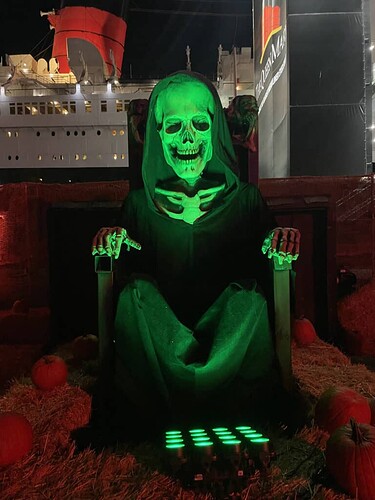 Look no further if you're searching for a Halloween extravaganza that seamlessly blends history, horror, and heaps of fun. Shaqtoberfest calls! Dive into the Spooky Season with a splash and let the Queen Mary's haunted decks be your playground. Trust me; it's an experience you won't want to miss!
Ready for a Halloween adventure like no other? Book your tickets, and once you've had your share of spooks, share your tales with us in the comments. And while you're at it, don't forget to explore our other Halloween event reviews for more eerie inspirations! 🎃👻🚢