Originally published at: REVIEW OF PIRATES OF THE CARIBBEAN: DEAD MEN TELL NO TALES - People of Con


Grade: ARRRRRRRRGH+ (A+)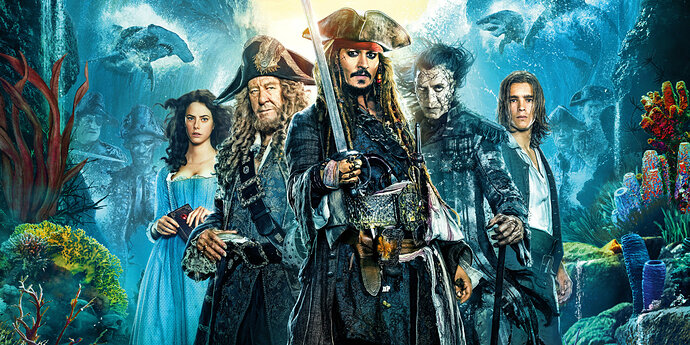 Author: Billy Madden
Johnny Depp's lovable character, Captain Jack Sparrow, is once again hitting the high seas, or box office, to really power the sails (or is it sales) of the Summer blockbuster season with Pirates of the Caribbean: Dead Men Tell No Tales. This time, instead of hunting for treasure, Captain Jack Sparrow has to find a safe harbor within the Trident of Poseidon. Whoever controls the Trident, in essence, controls the seas! The Trident is his only answer for removing Captain Salazar and his ghost pirate crew. Conversely, Captain Salazar (played by Javier Bardem) wants the Trident to eliminate Captain Jack and his less-than-polished crew aboard the Black Pearl.
Sounds like an easy race to a destination, but since cartography wasn't as simple as typing into Waze, they need the help of someone who can read the map to the Trident of Poseidon. In comes newcomer Kaya Scodelario (portrayed by Carina Smyth) to help chart the waters for Captain Jack and his raiders. All along the way, past secrets are revealed, and Captain Jack's fate hangs in the balance. It is a thrilling swashbuckling ride that flies by at two hours and nine minutes.
Dead Men Tell No Tales is incredibly entertaining thanks to the directing of Joachim Rønning and Espen Sandberg and the special production touch from Jerry Bruckheimer. When there is no action, there is laughter, and vice versa. The constant movement during the picture keeps you engaged in the epic battles at sea. You'll laugh at Captain Jack's savvy antics even during tense moments. The writing was so well done that many jokes could have easily landed the movie in the R-rating category. Still, due to the cleverness of the writers, the "inappropriate" jokes will fly right over the kids' heads and still bring joyous laughter to the adults.
I was fortunate enough to see this franchise installment in IMAX 3D. The cinematography was spectacular and catered to 3D effects. You will see ocean spray at the camera and have guns being aimed and fired at you, which will cause you to jump out of your seat immersed in the film. IMAX 3D is not a waste for this feature; it is more of a MUST. Pirates easily boast some of the best CGI special effects I have ever seen. Even the end credits were mesmerizing. As the famous score plays, you were underwater looking up in the bluest of crystal clear aqua.
The actors also did a good job portraying their respective roles. Depp is a natural Captain Jack Sparrow and Javier Bardem hauntingly brought Captain Salazar back to life. Bardem's role reminded me of Anton Chigurh's role in No Country For Old Men. He simply has to kill on his mind and will stop at nothing to get the job done. Whenever Bardem is on screen, it does bring you chills, but you're always satisfied by his excellent acting.
Even though this is the newest in the series, I have to admit I enjoyed it the most. It is my favorite Pirates movie, and I hope there will be more! Round up your mates and high sail to your local theater to see Pirates of the Caribbean: Dead Men Tell No Tales. You do not want to miss this! Also, do not forget to wait for the after-credit scene!
Rating: PG-13 (for sequences of adventure violence and some suggestive content)
Directors: Espen Sandberg, Joachim Rønning
Starring: Johnny Depp, Geoffrey Rush, Javier Bardem, Kevin R. McNally, Stephen Graham, Golshifteh Farahani, Kaya Scodelario, Brenton Thwaites, Orlando Bloom, Paul McCartney, David Wenham, Stephen Graham, Keira Knightley
Screenwriter: Jeff Nathanson
Genre: Comedy, Action, Adventure
Synopsis:
Johnny Depp returns to the big screen as the iconic, swashbuckling anti-hero Jack Sparrow in the all-new "Pirates of the Caribbean: Dead Men Tell No Tales." The rip-roaring adventure finds down-on-his-luck Captain Jack feeling the winds of ill-fortune blowing his way strongly when deadly ghost sailors, led by the terrifying Captain Salazer (Javier Bardem), escape from the Devil's Triangle bent on killing every pirate at sea – notably Jack. Jack's only hope of survival lies in the legendary Trident of Poseidon. Still, to find it, he must forge an uneasy alliance with Carina Smyth (Kaya Scodelario), a brilliant and beautiful astronomer, and Henry (Benton Thwaites), a headstrong young sailor in the Royal Navy. At the helm of the Dying Gull, his pitifully small and shabby ship, Captain Jack seeks not only to reverse his recent spate of ill fortune but to save his very life from the most formidable and malicious foe he has ever faced.