Originally published at: https://geektherapy.org/poupelle-of-chimney-town-to-be-released-on-december-30/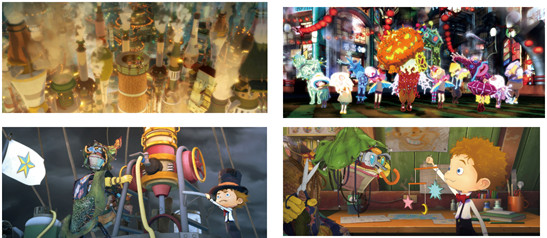 Author: Newsroom
LOS ANGELES, (November 17, 2021) – Eleven Arts, the Los Angeles-based distribution company known for bringing high-quality Japanese animation from world-renowned studios to North America, announced today it will release the breathtakingly beautiful and moving feature-length animated film Poupelle of Chimney Town in cinemas nationwide starting December 30, 2021. Poupelle of Chimney Town, created at Tokyo's renowned STUDIO4ºC and directed by Yusuke Hirota, is based on the bestselling picture book and screenplay by internationally known Japanese comedian and illustrator Akihiro Nishino. Poupelle of Chimney Town made its English World Premiere at the Animation Is Film Festival in Los Angeles. Eleven Arts will qualify the film for 2021 awards consideration and release the film theatrically in English and in Japanese.
The film stars Tony Hale (Poupelle), Antonio Raul Corbo (Lubicchi), Stephen Root (Bruno), Misty Lee (Lola) and Hasan Minhaj (Scoop).
"We are very proud to bring Poupelle of Chimney Town to North American audiences. It's an incredibly impactful animated feature that audiences will relate to and be deeply moved by," said Ko Mori, CEO of Eleven Arts.
Poupelle of Chimney Town was an Official Selection at this year's Annecy International Animation Film Festival and Fantasia Film Festival. It won the Japan Academy Film Prize for Animation of the Year and has been screened at film festivals around the world, including at Rotterdam (spotlighted at its Closing Ceremony), Fantastic Fest, Sitges and Spark.
Synopsis
Poupelle of Chimney Town is the story of young Lubicchi living among the thick smoke from the chimneys of his isolated town, yearning to see the "stars" — to know the truth — his father always told him about. One Halloween night he meets Poupelle, a man made of garbage, and together they look to the sky as their adventure begins. Spectacularly beautiful, filled with inspiring performances and splendid music and sound effects, and produced at Tokyo's famed STUDIO4ºC, Poupelle of Chimney Town brings laughter, tears and joy.
Running time: 100 minutes.