Originally published at: ODDITIES FLEA MARKET 2022 - People of Con


Oddities Flea Market 2022
Author: Newsroom
The Globe Theatre, Los Angeles  
Exclusive Two-Day Market  
SATURDAY, March 26th & SUNDAY, March 27th, 2022, 10:00 A.M. – 12:00 P.M. (VIP), 12:00 P.M. – 6:00 P.M. (GA) 
The one-of-a-kind shopping event, ODDITIES FLEA MARKET, will return to Los Angeles with an exciting assortment of curiosities for its Spring engagement Saturday, March 26th & Sunday, March  27th, at The Globe Theatre. This event comes from the successful 1-day New York City  ODDITIES FLEA MARKET, which safely welcomed over 3,000 attendees just in time for the Holiday season. Fashion icon, Lynn Yaeger, commented on how they had the best line she had ever seen in  NYC to the curators Ryan and Regina. Below is a quick blurb on the celebrity sightings at the ODDITIES FLEA MARKET. 
Real Housewives of New York's Leah McSweeney stopped by in athleisure and sans makeup to buy gifts for friends and family. She was seen fawning over the Rebel and Outlaw candles, known for their spells for love, balance, harmony, and even a candle to energize and align. TV personality known for Bravo's Queer Eye – Carson Kressley, was spotted checking out cheeky teacups by Melissa Johnson with phrases like "Stop Talking" and "Queen" on them. Other notables who stopped by included Miss J. Alexander, Jihae from HBO's hit show Succession, Steve Gold of Million Dollar  Listing New York, author Jill Kargman, DJ fashion it-duo The Muses, rockers Blonde Redhead and model & actress Michele Hicks, who was seen leaving with many bags of goodies.
Page | 1 
Curated by renowned collector and osteologist RYAN MATTHEW COHN (star of Discovery's  Oddities) and his wife/executive producer REGINA MARIE COHN, ODDITIES FLEA MARKET will showcase a wide array of rare and distinctive pieces, including medical history ephemera, osteological specimens, and taxidermy as well as dark art, home décor, jewelry, fashion, makeup, and more. The 
ODDITIES FLEA MARKET LA 2022 will introduce platinum VIP tickets, where in addition to early entry, a special photo op between 11 am and noon, RMC autographed lithograph,  and commemorative laminate will be included. The most recent event in NYC sold out over a month in advance. Ticket holders must provide proof of vaccination to gain entrance or a negative covid test within 48 hours of the event. Multiple sanitation stations will be available throughout the venue to promote cleanliness.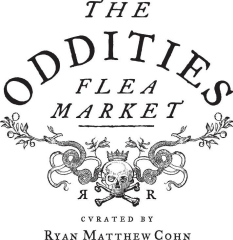 ODDITIES FLEA MARKET VENDORS 
EYEBA • Alex Streeter • Miss Havisham Curiosities • MM Fabrications • Alligator Jesus • Acid Queen  Jewelry • BlckBts • Ampersand Curiosities • Memento Mori LA • Blue Bayer • Zoa Chimerum Jewelry •  Rebels & Outlaws • Deadskull Curio • Hellflower Soap Company • Scientificwoman • Ave Rose •  Nature's Oddities • Veneration of Light • Century Guild • Loschy Designs • Memento Mori Goods •  Midnight Candles • Dark Entries LA • Lizz Lopez • Deadly Darling Nightshades • Little Ghouls• Dirty  Lola • Psychic Circle Oddities • Stephanie Inagaki • Vera's Eyecandy • Kreepsvile 666 • Velvet  Apparition • The Olde World Emporium • ShopYouPlayYouPay • Seance Perfumes • Sorceress & The  Stone • United Society of Sin • Our Darling • Lethal Amounts • Comavvitch • The Pretty Cult • Salazar  Rose • KIL N.Y.C. •Shadow Puffs The Art Of Treiops Treyfid • Dark Mourning Oddities • Silent Natura  Designs • Nitecrawlher • Dutch Hollow General• The Past You've Never Seen • Wicked Moon Creations  • Neftali Camacho • Solid Wiggles • Swoonful Cotton Candy • Sorrowful Bodies • Galatea 
EVENT DETAILS 
WHAT: ODDITIES FLEA MARKET CURATED BY RMC 
WHEN: SAT & SUN, MARCH 26-27TH, 2022 
TIME: 10:00 A.M. – 12:00 P.M. (VIP), 12:00 P.M. – 6:00 P.M. (GA) 
WHERE: THE GLOBE THEATRE, LOS ANGELES 
(740 S Broadway, Los Angeles, CA 90014) 
DETAILS: All Ages; Advance Tickets ($20 GA – $50 VIP – Platinum VIP $100) 
*Proof of vaccination required for entry* 
Find more details on THE ODDITIES FLEA MARKET: 
WEBSITE | INSTAGRAM | FACEBOOK 
PRE-MARKET WORKSHOPS 
This OFM will accompany pre-market activities where patrons can purchase class tickets from some of their favorite vendors. This season's lineup consists of a Cat Articulation class led by the Curator, Ryan Mathew Cohn. An Anatomy in Chocolate Class with Annabel de Vetten (of Bake Squad 2 on Netflix). Beetle Crystallization Workshop with Ampersand Curiosities & a Fetal Pig  Dissection Workshop with ScientificWoman. The classes occur on March 24th at Black Sheep  Gallery, 231 North 1st Street, Burbank, CA 91502. Click class links for more information and to purchase your tickets. 
Special Musical Guests DEAD ANIMAL ASSEMBLY PLANT will DJ the event, adding just the right ambiance of the macabre and strange.  
DAAP combines rock, metal, and industrial elements, bringing a strong post-apocalyptic / horror influence to its characters and stage show.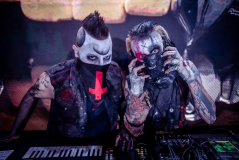 Coming from NYC after being a hit at the last OFM, SOLID WIGGLES will bring their gourmet creations for the LA patrons to experience. 
"We (Jack Schramm, bar mastermind & Jena Derman, sweet shifter) are creating inventive flavor  combinations that will blow your socks off in beautiful and mind-bursting ways."