Originally published at: NOW IN THEATERS | GKIDS RELEASES OFFICIAL ENGLISH MUSIC VIDEOS FOR "BELLE" - People of Con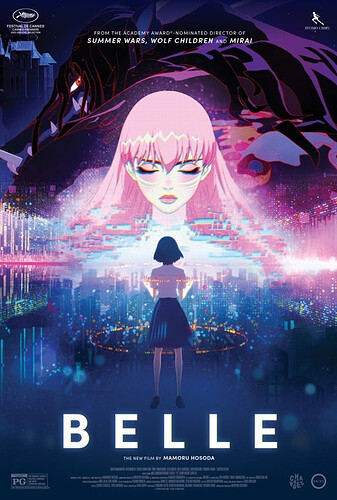 Author: Newsroom
NEW YORK (January 14, 2022) – GKIDS, the acclaimed producer and distributor of multiple Academy Award®-nominated animated features, in celebration of today's nationwide theatrical opening, has released official music videos for the English-language songs for Oscar®-nominated filmmaker Mamoru Hosoda's latest feature BELLE. The music videos for the tracks "A Million Miles Away," "Lend Me Your Voice," and "U," feature lyrics and footage from the film, which opens in over 1,000 theatres and IMAX screens nationwide starting today. Also released today and available everywhere now, is the English language edition of the BELLE Original Soundtrack, released by Milan Records.
Earlier this week, GKIDS released the first three minutes of the film, as well as two other select scenes from the all-new English language version ("Suzu Enters U" and "Meeting the Dragon"), featuring the voices of Chace Crawford ("The Boys," "Gossip Girl"), Manny Jacinto ("Nine Perfect Strangers," "The Good Place"), Kylie McNeill, and Hunter Schafer ("Euphoria").
BELLE is an original story written and helmed by celebrated director Mamoru Hosoda, whose previous films include the Academy Award®-nominated Mirai, The Boy and the Beast, Wolf Children, Summer Wars, The Girl Who Leapt Through Time and others. Hosoda is joined by long time producing partner and Studio Chizu co-founder Yuichiro Saito, as producer on the title. BELLE was released in Japan starting July 16, 2021. Despite ongoing limited screening capacities and nationwide curfews, the film has grossed over 6.53 billion yen at the box office to date, becoming Mamoru Hosoda's highest-grossing film ever, and the third-highest grossing film of the year at the Japanese box office.
BELLE made its critically-acclaimed world debut at the Cannes Film Festival and its North American premiere at the New York Film Festival. The film has also played in competition at the London Film Festival, Fantastic Fest, and Los Angeles' Animation is Film festival, where the film was awarded the Special Jury Prize. BELLE has received honors at the Los Angeles Film Critics Association, Chicago Film Critics Association, San Francisco Bay Area Film Critics Circle, Austin Film Critics Association, Detroit Film Critics Society, Florida Film Critics Circle, Online Association of Female Film Critics, and Greater Western New York Film Critics Association. Last month, BELLE was also nominated for five Annie Awards, including Best Independent Feature.
On BELLE, the Japanese creative team worked in collaboration with a roster of international talents. Character designer Jin Kim, the artist behind several iconic Disney features including Moana, Tangled, and Frozen, designed the titular Belle. Cartoon Saloon's Oscar®-nominated Tomm Moore and Ross Stewart (Wolfwalkers, Song of the Sea, The Secret of Kells) also join the team, contributing artwork for the various virtual fantasy worlds within the film. Hosoda continues his film collaborations with architects, and is joined by up-and-coming British architect and designer Eric Wong, who designed the virtual world of "U." Rounding out the team, composer Ludvig Forssell, best known for his collaborations with video game auteur Hideo Kojima (Death Stranding, Metal Gear Solid V), joined the score team for the film.
BELLE Synopsis
From the celebrated Academy Award®-nominated director Mamoru Hosoda and Studio Chizu, creators of Mirai, Wolf Children, Summer Wars, and more, comes a fantastical, heartfelt story of growing up in the age of social media.
Suzu is a shy, everyday high school student living in a rural village. For years, she has only been a shadow of herself. But when she enters "U", a massive virtual world, she escapes into her online persona as Belle, a gorgeous and globally-beloved singer. One day, her concert is interrupted by a monstrous creature chased by vigilantes. As their hunt escalates, Suzu embarks on an emotional and epic quest to uncover the identity of this mysterious "beast" and to discover her true self in a world where you can be anyone.
www.BelleFilm.com
TWITTER | INSTAGRAM | FACEBOOK | YOUTUBE | TIKTOK