Originally published at: Magic, Meals, and Self-Discovery: A Review of 'Basil and Oregano' - People of Con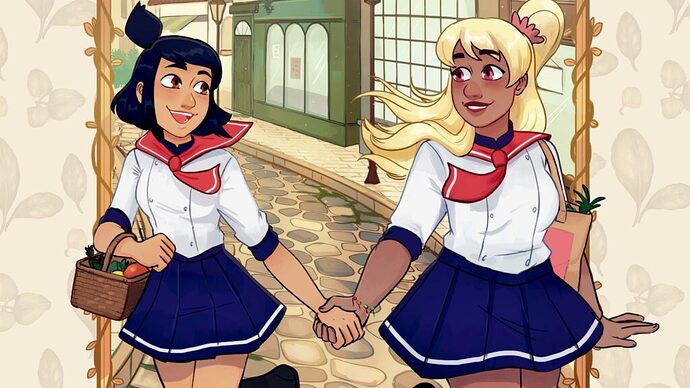 Author: Daysha Nichols
When I first picked up Basil and Oregano by Melissa Capriglione, I was immediately struck by the vivid illustrations and the rich tapestry of diverse characters. It's not just another young adult graphic novel; it's a culinary adventure intertwined with romance and self-discovery.
The story revolves around two young women, Basil and Arabella, who are students at the enchanting Porta Bella Magiculinary Academy. Basil's journey is one of fierce determination. She's on a mission to maintain her top student status, a necessity to keep her scholarship. But this relentless pursuit comes at a cost: isolation and the looming shadow of burnout. Arabella, on the other hand, carries a weighty secret. She's a non-magic user in an all-magic school, a fact she conceals to protect her family's esteemed reputation. As the pages turned, I found myself deeply invested in their growth, cheering for their triumphs and empathizing with their struggles.
One of the standout elements of this graphic novel is its unique blend of culinary arts and magic. As someone with a culinary background and a proud member of the LGBTQ+ community, this story resonated on multiple levels. It's not just about cooking; it's about finding one's identity and embracing it wholeheartedly. Arabella's words particularly resonated with me: "I loved watching chefs on TV…Non-magical ones. It's slower and more specific than magiculinary arts, but I felt so much joy to cook like that. It still feels so magical to make something amazing with your own two hands."
The plot's pacing is like a well-cooked meal: consistent, with flavors of conflict and resolution perfectly balanced to keep readers craving for more. While it's primarily driven by its captivating illustrations, the dialogues in the speech bubbles effectively convey the depth and dynamics of the story.
If I had to rate it, I'd give Basil and Oregano a solid 7 out of 10. It's a heartwarming tale that is a poignant reminder that burnout can touch anyone. Yet, we can rise above it with the right tools, support, and a dash of self-belief.
To anyone who's ever felt the pressure to prove themselves or has grappled with their identity, this book is for you. Whether you're part of the LGBTQ+ community, a culinary enthusiast, or simply a lover of graphic novels, Basil and Oregano is a delightful treat that promises a roller-coaster of emotions.
Have you ever faced burnout? How did you navigate through it? Share your stories in the comments below. Let's foster a community of understanding and support, one story at a time.