Originally published at: Loki Meets McDonald's: A Tantalizing Twist on Timeless Tastes -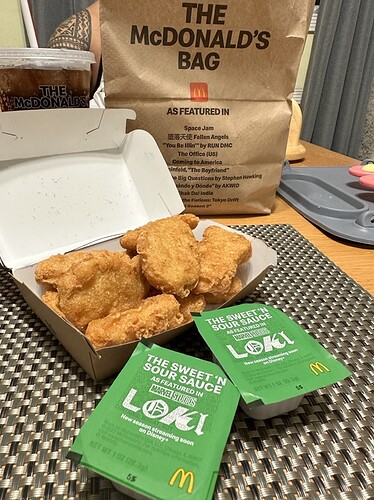 Author: Stefanie Bautista
The Idea
We've all witnessed the rise of McDonald's x pop culture collaborations. The unforgettable BTS meal in summer 2021, featuring the globally renowned Korean Boy Band, set the stage with its purple bags, exclusive merchandise, and viral appeal. Since then, McDonald's has been curating "Limited Edition Meals" that, in essence, remix existing menu items to celebrate music artists, films, and TV shows.
The latest on the menu is the Loki "As Featured In" Meal. While it offers various combo choices, the standout is undoubtedly the Loki "The Sweet and Sour Sauce." This seems to be a nod to the time-bending theme of Loki and the iconic McDonald's items that have been immortalized in TV and film. The emphasis on the word "The" before each menu item, and especially the teaser video of the collaboration, underscores this:
The teaser concludes with a fleeting glimpse from Loki season 2, where Sylvie is spotted working at a McDonald's, further intertwining the multiverse of McDonald's with pop culture.
The Meal
I opted for a 10-piece chicken nugget meal, accompanied by medium fries and a Coke. While the meal components were familiar, my curiosity was piqued by the "The Sweet and Sour Sauce". Was it the same old flavor or something new? Perhaps it was the darker green packaging or my own expectations, but this sauce felt tangier than usual. As a regular consumer of McDonald's chicken nuggets (thanks to my toddler's love for them), I found this version reminiscent of the Szechuan sauce from a past Rick and Morty collaboration. It had pronounced citrus undertones, a hint of spice, and the familiar sweet aftertaste characteristic of many Asian sauces.
All in all, if you're in the mood for a familiar yet slightly altered meal without delving too deep into the multiverse, give this a shot. It feels comfortably familiar, perhaps overly so. But considering the subdued promotions due to the ongoing writers and actors strike, it seems like a subtle nod to the upcoming season of Loki.
Loki Season 2 premieres on Disney+ on October 6. The "As Featured In" Meal is now available at all McDonald's outlets.