Originally published at: LA COMIC CON 2023 LEVELS UP FOR IT MOST DIVERSE AND INTERACTIVE EXPERIENCE IN SHOW HISTORY - People of Con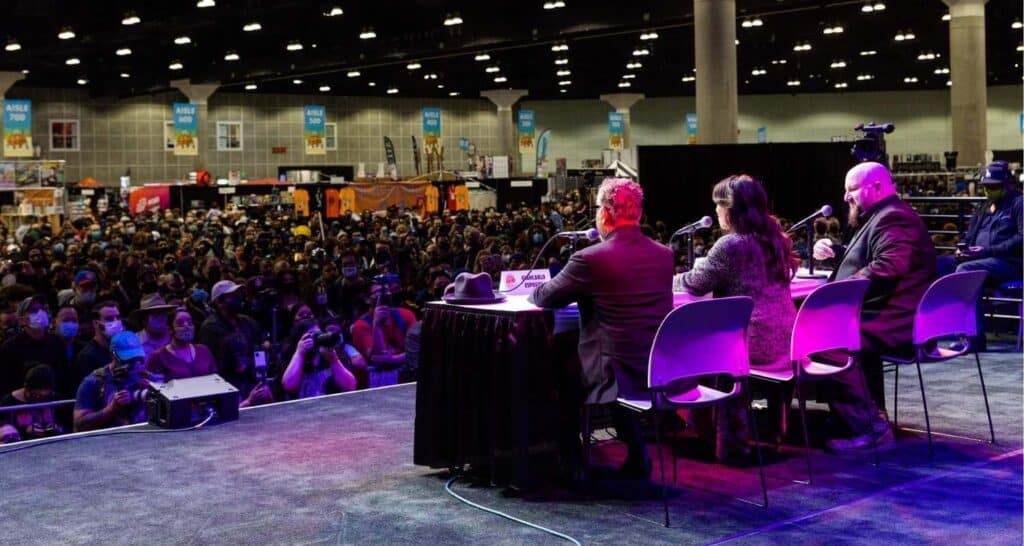 Author: Newsroom
LOS ANGELES — NOVEMBER 17, 2023 —  L.A. Comic Con, Los Angeles' largest event for comics, gaming, anime, cosplay and pop culture, is excited to announce its full lineup of panels and entertainment for its December 1-3 show. After breaking new ground in 2022 with a record-shattering 126,000 total fans in attendance, event organizers are leveling up the Con experience yet again by doubling down on some of the most popular elements and activations of last year.
"Los Angeles has some of the most knowledgeable, diverse, and passionate fans in the world and they deserve a show that encompasses everything they love about Con culture," said Chris DeMoulin, CEO/GM of Los Angeles Comic Con parent company CEI. "Our team has worked to make this year's show another unforgettable experience that embodies the creativity and artistry of the films, shows, comics, and creators we all know and love."
L.A. Comic Con 2023 will feature over 250 panels and programming running all weekend to spotlight some of the most beloved names in entertainment today, with opportunities to interact with stars through photo ops and autograph signings. Fans can expect to see creators, artists, cosplayers, and celebrities all weekend long — with over 800 diverse artists and vendors selling comics, collectibles, art, toys, apparel, and everything in between.  
Additionally, an extra 100,000 square feet of floor space has been added to the West Hall, the center for all the gaming and anime action. With that, for the first time in show history, attendees get the chance to test their skills against the best of the best in Mortal Kombat and Street Fighter tournaments — playing alongside the likes of FGC icons like Justin Wong, Punk, and Alex Jebailey (aka Jebailey). Gaming fans will also be treated with access to a live-streaming via stream studio, a free-play area and indie gaming demos powered by The MIX.
Fans can still get their tickets by visiting www.comicconla.com/tickets. 
L.A. Comic Con will take place at the Los Angeles Convention Center, 1201 South Figueroa Street, Los Angeles, CA 90015. Show Hours for the three-day event are as follows:
Friday, December 1: 4:00 p.m. – 9:00 p.m.
Saturday, December 2: 9:30 a.m. – 7:00 p.m.
Sunday, December 3: 9:30 a.m. – 5:00 p.m.
2023 EVENT HIGHLIGHTS AND DETAILS:
FULL TALENT LINEUP:
Amy Jo Johnson, [known for roles in Mighty Morphin Power Rangers, Felicity, Flashpoint]
Billy Boyd, [known for roles in The Lord of the Rings, Child's Play, Seed of Chucky]
Bonnie Wright [known for roles in Harry Potter and After the Dark]
Brendan Wayne, [known for roles in The Mandalorian, Book of Boba Fett]
Bryce Papenbrook, [known for roles in Attack on Titan, Demon Slayer: Kimetsu no Yaiba]
David Yost, [known for roles in Mighty Morphin Power Rangers, Power Rangers Cosmic Fury]
Diana Lee Inosanto, [known for roles in The Mandalorian, Ahsoka]
Dominic Monaghan, [known for roles in The Lord of the Rings, Lost]
Efren Ramírez, [known for roles in Napoleon Dynamite, Employee of the Month]
Elijah Wood, [known for roles in Lord of the Rings, Yellowjackets]
Eman Esfandi, [known for roles in Ahsoka, King Richard]
Emily Rudd, [known for roles in Netflix's One Piece and Fear Street]
Erin Moriarty, [known for roles in The Boys, True Detective]
Grace Caroline Currey, [known for role in Shazam!, Annabelle: Creation]
Ivanna Sakhno [known for roles in Ahsoka, Pacific Rim Uprising, The Spy Who Dumped Me]
James and Oliver Phelps [both known for roles in Harry Potter and Fantastic Friends]
Jamie Campbell Bower [known for roles in Stranger Things, Twilight & Harry Potter and the Deathly Hallows – Part 1]
Johnny Yong Bosch [known for roles in Power Rangers: The Movie, Trigun]
Jon Heder, [known for role in Napoleon Dynamite, Blades of Glory]
Karen Fukuhara, [known for roles in Suicide Squad, The Boys]
Lateef Crowder, [known for roles in The Mandalorian, Falcon Rising, Tekken]
Matt Smith, [known for roles in Doctor Who, House of the Dragon]
Natasha Liu Bordizzo [known for roles in Ahsoka, The Voyeurs]
Rainn Wilson [known for roles in The Office, Super]
Sean Astin [known for roles in The Goonies, Toy Soldiers, Rudy, The Lord of the Rings]
Sean Schemmel, [known for roles in Dragon Ball Z, Pokémon]
Tom Kenny, [known for roles in SpongeBob SquarePants, Rick and Morty]
Trina Nishimura [known for role in Attack on Titan, My Hero Academia]
Virginia Gardner [known for roles in Marvel's Runaways, The Fall]
Programming Includes:
West Hall Experience Featuring Gaming & Anime
The Gaming and Anime Stage
The gaming and anime stage will serve as the hub for a variety of gaming and anime content, including panels with your favorite anime voice actors Johnny Yong Bosch, Bryce Papenbrook, Trina Nishimura & Sean Schemmel. This will also be where the epic Mortal Kombat 1 and Street Fighter 6 tournaments take place all weekend long!
eSports-Style Tournaments 
Attendees get the chance to test their skills against some of the most iconic FGC players in the world  with the Street Fighter 6 Experience — playing against the likes of Justin Wong, an FGC legend who has won more EVO titles than anyone else with nine tournaments victories, as well as one of the top-ranked FGC players currently in North America, Punk, and FGC organizer Alex Jebailey (known as Jebaited on Twitch). There will also be 2 additional tournaments powered by LeagueSpot, where fans can try their hand competitively against other fans at Mortal Kombat 1 and Street Fighter 6,  with the finals being held on the West Hall Gaming Stage.. 
The MIX
The Media Indie Exchange (The MIX) will be bringing 10+ new games, currently in development, to L.A. Comic Con. Fans have a chance to meet with the developers and discover what's new and upcoming in the gaming industry.
Gaming Freeplay Zone:
Take a seat in our Freeplay zone and enjoy some of the hottest games on PC and console. Covering a range of classics to the newest releases, this hangout spot gives fans a chance to play games with others during the show!
Streamer Studio:
Aspiring creators can stream live to the world directly from the floors of L.A. Comic Con!
The Main Stage:
The main stage is a staple of L.A. Comic Con where much of the most anticipated action takes place— serving as the hub for all the headliner panels and top entertainment guests. Main stage talent will feature the stars behind some of Comic Con fan's favorite creations from the Star Wars universe, Harry Potter, Lord of the Rings, Power Rangers and more. 
Main Stage Panels Include: 
MARVEL: Amazing Spider-Man – Gang War
Spotlight on: Matt Smith
Ahsoka with Natasha Liu Bordizzo, Ivanna Sakhno, Eman Esfandi & Diana Lee Inosanto
The Boys with Erin Moriarty & Karen Fukuhara
Spotlight on: Jamie Campbell Bower
The Office with Rainn Wilson & Paul Lieberstein
Lord of the Rings with Elijah Wood, Sean Astin, Dominic Monaghan & Billy Boyd
Harry Potter with Bonnie Wright, James Phelps & Oliver Phelps
SpongeBob SquarePants with Tom Kenny & Rodger Bumpass
And so much more!
 — See full lineup HERE!
Personalities from Fandom and GameSpot will host the majority of on-stage panels throughout the weekend's events.
Fandom – Fandom, the world's largest fan platform, is teaming up for a multi-faceted marketing partnership with L.A. Comic Con for the first time spanning panel moderation, social media, on-site branding, and giveaways for fans.
By marrying Fandom's massive reach (350M highly engaged gaming fans, 45M pages of content across 250K wikis) and one-of-a-kind content with L.A. Comic Con's best in class event experience, this alliance brings even more fans opportunities to connect with their favorite entertainment & games.
Friday Night Live with KROQ
The most unpredictable show on radio can now be seen live at L.A. Comic Con. The iconic KROQ will be hosting our Friday night LIVE on the Main Stage, bringing on musicians, comedians and your favorite stars with an epic 2 hour variety show! This year, our special guests announced so far:
Logic: the Grammy-nominated hip-hop artist and producer with chart topping albums "Under Pressure" and "The Incredible True Story" 
Clown (from Slipknot): Multi-disciplinary artist and founding member of the iconic band
Marvel Comics' Portfolio Reviews:
Marvel Comics' talent scout Rickey Purdin will be performing portfolio reviews at Los Angeles Comic Con. Read more here.
The 8th Annual National Cosplay Championship:
There's no Comic Con without Cosplaying! That's why every year, we give all our creative cosplayers a chance to compete for $30,000 in cash and other prizes by participating in one of three categories: Master, Journeyman, or Novice. All genres are welcome, including characters from film, television, theater, comics, video games, sci-fi, anime, horror, and original creations.
Kids' Costume Contest:
Every year we host a special costume contest for all the junior cosplayers 12 and younger. All finalists will receive prizes and the top 5 will win a prize pack provided by a special guest!
Los Angeles Football Club:
L.A. Comic Con will once again feature the defending MLS Cup Champions for a meet and greet and autograph signings. On Saturday, December 2nd, fans can meet LAFC talent, see the MLS cup, and get an exclusive LAFC Comic Con Poster. On Sunday, December 3, LAFC will be hosting a skills clinic for kids, 12 and under from 1-3pm!
Autographs and Photo Ops:
Fans can pre-purchase autographs and photo opportunities with some of their most anticipated guests!
World Class Artists & Creators, Including:
Ryan Ottley, Invincible, The Amazing Spider-Man
Ryan Stegman, Marvel's She-Hulk, Spider-Man, X-23 Absolute Carnage
Skottie Young, Spider-Man: Legend of the Spider Clan, Human Torch, and Venom
Jason Aaron, Thor, The Avengers, Ghost Rider, and Wolverine
Dan Slott, She-Hulk, The Superior Spider-man, Fantastic Four
Zeb Wells, Hellions, Amazing Spider-Man. Currently, She-Hulk, Marvel's Zombies
Ariel Diaz, The Boys, Street Fighter, Vampirella
Josie Campbell, Jurassic World: Camp Cretaceous, My Adventures with Superman 
Rose Besch, Amazing Spider-Man, Catwoman, Star Wars Adventures 
Nick Spencer, Morning Glories, Superior Foes of Spider-Man, The Fix
Jim Cheung, Scion, New Avengers: Illuminati, Young Avengers and Avengers: The Children's Crusade
Patrick Owsley, The Flintstones, Yogi Bear, Scooby-Doo, Simpsons 
Michael Swanigan, The Mask, Defenders of Earth, Challenge of the GoBots
Scott Koblish, G.I. Joe, The Punisher, Thor, Hulk, Captain America,
Steven E. Gordon, X-Men: Evolution, Shrek 2, Eight Crazy Nights, The Swan Princess
Tickets for L.A. Comic Con's 2023 event are currently available for purchase via this link. Stay tuned and stay in the know by visiting www.comicconla.com and following the event updates on Twitter, Facebook, or Instagram.