Originally published at: IT'S A FAN THING AT THE GASLAMP - People of Con


San Diego Comic-Con 2017
First published in Press Pass LA on July 26, 2017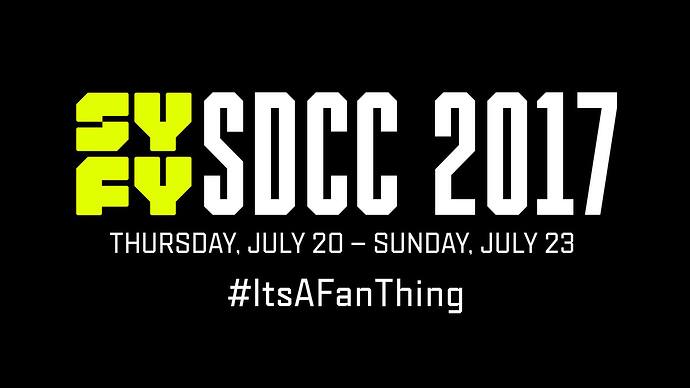 Author: Ariel Landrum
During the pop-culture extravaganza that is San Diego Comic-Con, veteran guests have grown accustomed to expecting various off-site company promotions. Most include free swag but often miss the mark on memorability, causing many to skip them altogether. I found this was not true for Syfy, who took over the Gaslamp with "It's A Fan Thing" during SDCC 2017. Shifting from swag to activations to events, it's clear that the marketing team put out all the stops, which also helped commemorate the network's 25th anniversary. Any attendee willing to boldly go where no badge holder has gone before (out of the convention hall) was certainly satisfied with the results.
Throughout the four-day event, from July 20 to July 23, 2017, the Syfy Street Team passed out swag that went the extra mile with customization, such as "Hail Hydra-tion" water bottles. I kept mine for the sheer punninness. Heading to the streets was the Syfy Drumline marching around, playing music commemorating major moments in science fiction history through the tunes of their theme songs. Also sprinkled throughout the sidewalks were Cospital Carts, where the defeated cosplayer could get touch-up makeup from a beauty expert and pursue essentials to give their costumes some much-needed TLC.
As expected, there were Syfy fan parties, but unlike previous years, the company helped strip away the exclusivity of these comic-con traditions. They hosted parties at the Children's Museum on Thursday and Friday nights, July 20 and 22. Instead of waiting in line for special wristbands, or a "need to be on the guest list" experience, they let everyone in on a first-come, first-serve bases. Their parties featured themed photo booths, live performances, and hourly prize drawings.
Roaming the stress of San Diego was the Trivia Trolleys: pedal-powered canapé style mobiles that tested two teams of six from a large range of pop culture, history, and science questions. Anyone who wanted to show off their geek knowledge could compete to win prize money and giveaways. I love trivia shows, especially Cash Cab, so the chance to join a bike version seemed like a no-brainer. My father was with me when we discovered a stop and hopped aboard. The two of us dominated the questions; we weren't ready for all the biking. I'm rather short and couldn't pedal a full rotation! The volunteers also enjoyed watching everyone struggle as they road uphill, a workout no one was prepared for.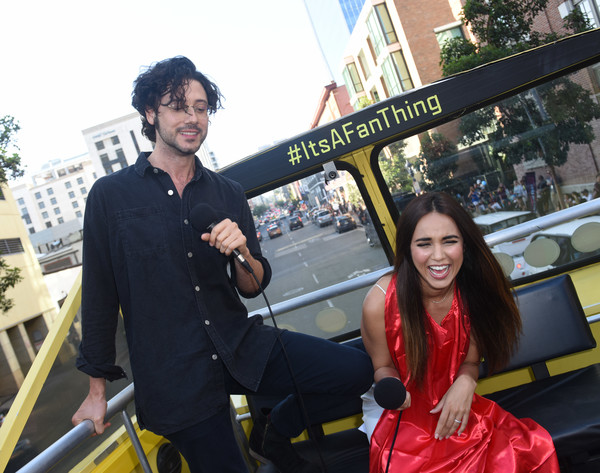 Not to be outdone by the Trivia Trolleys, Cosplay Karaoke Buses roamed the roads inviting all the fandom dressed to belt out their favorite songs. As it drove by, street people would join the fun by singing along. At one point, the music migration passed by the convention center, and we all stopped in the walkway to participate in Shout, a seminal classic by Otis Day & The Knights featured in the popular 1978 movie Animal House. The open-air double-decker bus was so popular that even the stars of Syfy's The Magicians dropped in to sing. Arjun Gupta serenaded the crowd with a passionate rendition of "Hero" by Enrique Iglesias. Leaning more towards a duo act, Hale Appleman and Summer Bishil gushed during a duet of "Total Eclipse of the Heart" by Bonnie Tyler.
However, one of the most memorable and unique experiences was the Geek Love Chapel. It's said that there is only one commitment greater than fandom: marriage. Therefore Syfy allowed nerds from all corners of the multiverse to volunteer as tribute in the nuptial giving. The pop-up ceremony space came complete with greenery, benches for guests, wedding accessories like veils, and nerd essentials like lightsabers.
Surrounded by loved ones and the Syfy crew, fans renewed vows or uttered them for the first time. Even better, American Gods star Orlando Jones officiated each legal wedding, as the Universal Life Church ordained the actor. Actor Ian Ziering, the popular Sharknado franchise star, surprised his wife in a whirlwind vow renewal.
Back at the convention hall were thirteen Syfy panels, two screenings, a live broadcast with around-the-clock convention coverage, and an invitation-only The Nerd Party with co-host Zachary Levi of Nerd HQ.
In the end, it appears the organization practices what they preach. Everything off and on-site was fan-centric. Tailoring their investments towards trivia, cosplay care, pun-filled freebies, and a chance at geek matrimony shows they know their audience. Syfy embodied "it's a fan thing" at San Diego Comic-Con 2017.