Originally published at: INTERNATIONAL WOMEN OF MANGA PANEL AT LBCE 2019 - People of Con


Long Beach Comic Expo 2019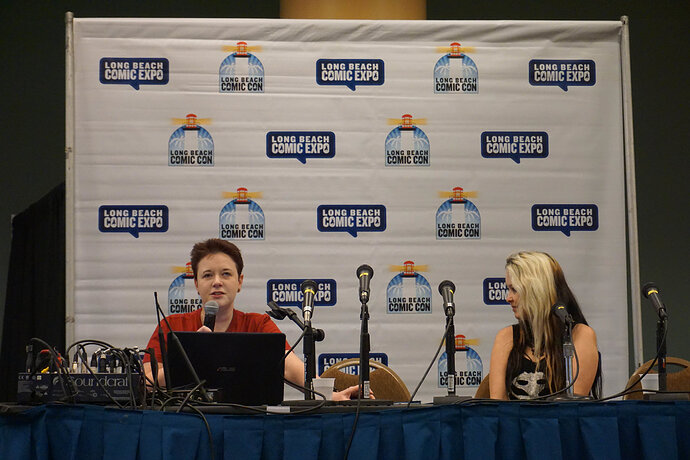 Author: Stefanie Bautista
The fabulous female panelists of Tokyopop media showcased many of the fantastic female writers and illustrators on staff at the International Women of Manga panel this past Sunday, February 17, 2019, at Long Beach Comic Expo. Present was moderator Kae Winters of Tokyopop, and Mallory Reaves, writer of numerous manga titles, including her latest Beauty and the Beast manga adaptations release.
Traditionally, Mangakas (manga writers and illustrators) have been men in a world dominated by male publishers. Tokyopop strives to advocate for the advancement of talented women in the world of manga. This experience was emphasized by Winters, who stated that the panel's focus was to shine a spotlight on extraordinary female creators.
The International Women of Manga panel proved to be true to its title. Attendees learned about female Mangakas from countries such as Iraq, Germany, and Sweden. These ladies are pioneers of the craft, with their styles and impeccable storytelling abilities catering to fans of all manga genres, including Shojo, Shonen, and even the Boys Love series.
Each artist and their work were visually presented via PowerPoint. As each creator's journey to discovering and creating manga was described, they all shared the commonality of discovering their talent through their love of the medium.
So much talent was displayed here on the panel with their imaginative storytelling and beautiful illustrations. One of their artists, Sophie-chan, is one of Tokyopop's most talented artists and is based in Iraq. Writing and illustrating manga since she was 7, Sophie-chan gained a huge following on her YouTube channel with over 31 million views. She first self-published her graphic novel in 2015, Ocean of Secrets, a full-volume Manga, later published by Tokyopop in 2017.
Sophie-chan lives and breathes by the mantra, "If you want to achieve something, keep doing it." The panelists made sure that message was echoed throughout the discussion. Another artist, Natalia Batista from Sweden, is a series creator and illustrator. She is currently writing Sword Princess Amaltea for Tokyopop. The series is a strong proponent of female strength, with a story in a medieval world where Queens are in charge, men are"damsels in distress," and females are the heroes, essentially flipping the status quo.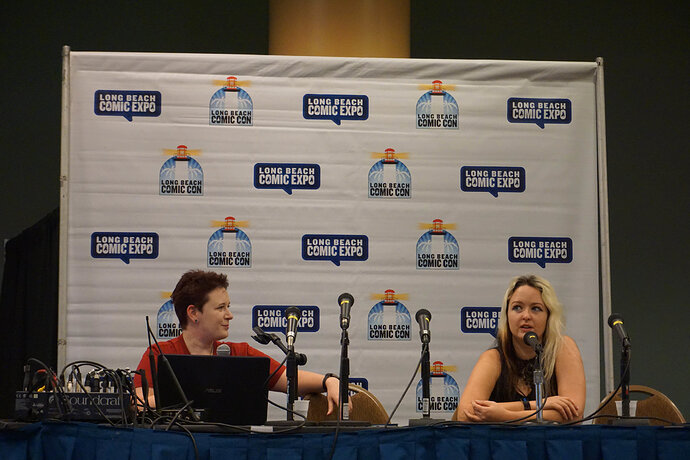 Reeves then shared some of her own experiences as a Mangaka. One project that stood out as the most challenging was being asked to write the dual perspective manga version of Disney's Beauty and the Beast.
She delightfully shared stories of stressful experiences while writing the manga, noting that it was all a labor of love. This project required her to write scripts, research, and conceptualize storylines in any environment, including LA traffic on the 91 Freeway, while her husband drove them to and from work.
At the same time she was writing the manga, the live-action film version of the story was being developed, which meant writing her content in secrecy. Much of her source material had to be approved by Disney, and she swore to the company that the material was seen by her eyes only. The end product: a gorgeous two-set manga describing the story of Beauty and the Beast, with one volume written from Belle's perspective and the other from the Beast's.
While on the topic of Disney-themed manga from Tokyopop, Kae described a wonderful series called Kilala Princess, originally by Rika Tanaka and illustrated by Nao Kodaka. Kingdom Hearts games fans will love this series, as Kilala is a female version of Sora.
The series follows Kilala as she is transported into the worlds of her favorite Disney Princesses while trying to save her best friend. Winters and Reaves both mention that Kilala is very self-aware and "fangirls" at the sight of her favorite princesses, making the story fun and relatable for any Disney fanatic to read.
Mallory told the audience that she is helping write Princess Kilala 2, where Kilala gets to meet more Disney princesses, more importantly, Disney's princesses of color. She says that the most exciting part of the project is researching the original stories of heroines like Mulan and Tiana, as their cultures are so rich and full of wonderful imagery and folklore.
Knowing that they continue to promote strong female leads makes the work all the more special. In addition to Princess Kilala, Tokyopop has an extensive list of Disney manga collaborations, such as Alice in Wonderland, Lilo and Stitch, and the ever-popular Disney's Descendants.
The International Women of Manga panel was an important addition to the Long Beach Comic Expo lineup. Attendees were inspired by the vast talent that female Mangaka contributes to the craft.
Look for the above titles and more Tokyopop titles at your local bookstore and Tokyopop.com.