Originally published at: Days of the Dead LA: A Horror Convention with a Sweet & Sci-Fi Twist - People of Con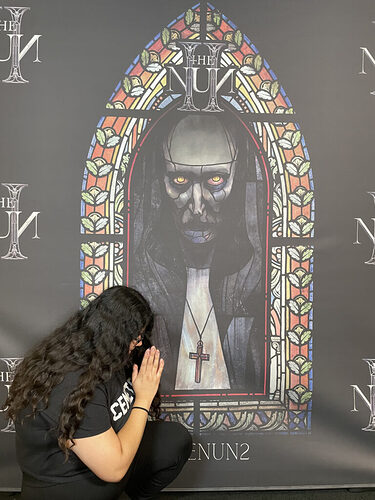 Aurhor: Tania Escobar
Days of the Dead Los Angeles may have been a smaller convention, but it was brimming with character. With just one show floor, a room for panels, photo ops, and a film festival, it was an intimate setting for fans of the Halloween Horror style. But as I ventured further, I realized there was more to this convention than just horror.
Upon entering, I was pleasantly surprised. While horror was the main theme, the convention also catered to sci-fi enthusiasts, especially those who adore Kaiju and Godzilla. It was a delightful blend that made the event stand out from others like Midsummer Scream or HauntX.
The essence of Days of the Dead Los Angeles was its intimacy. It's an excellent way for fans to meet notable figures in the horror community and support indie horror. I've seen this convention in other states like Illinois and Georgia. It might be bigger on the East Coast, but it's still relatively unknown on the West Coast. I once wanted to attend when it was in Las Vegas because the main cast from The Warriors was attending.
The venue, the Hilton Los Angeles Airport near the LAX, had its challenges, especially with parking (I'd recommend taking Uber or Lyft). But once inside, the atmosphere was electric. The attendees, a mix of horror aficionados, Halloween event fans, and those keen on the scare industry, added to the vibrant energy.
One of the most memorable experiences was a booth for the upcoming movie The Nun II. They offered a free t-shirt if you posed with their backdrop and posted it on your social media. On Saturday, the scare-actor nuns promoting the movie did an eerie slow walk around the exhibit hall, weaving between vendors with candles and black veils. Their marketing at this event was indeed top-tier. After attending, I know I'm excited for The Nun II reasling in the US on September 2, 2023.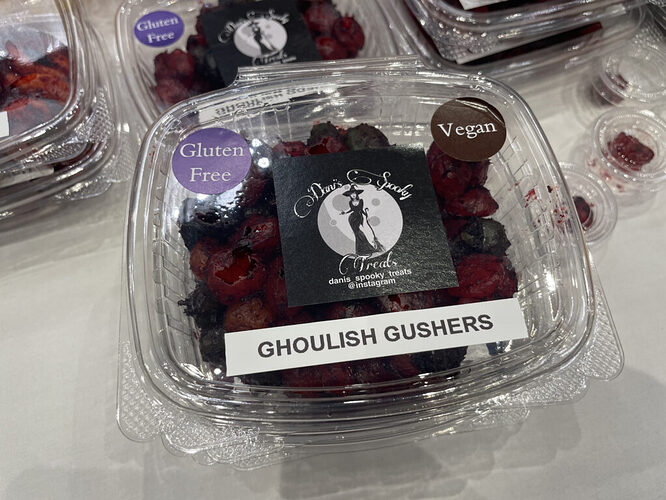 But among the eerie and thrilling, a sweet side to the convention caught my attention. The horror-themed confectionaries were an unexpected delight. Dani's Spooky Treats, a proud Latina-owned business, offered gluten-free vegan gushers and gummy bears that were as tantalizing as they were terrifying. Their Hellfire Bears, made with the fiery Carolina Reaper pepper, was a spicy sensation. They even sold out of their chamoy-flavored Ghoulish Gushers on the first day!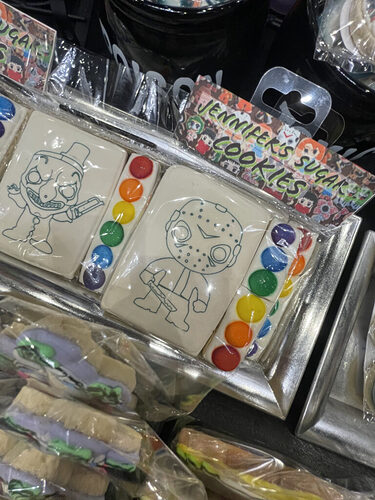 Lunas Sweets & Treats took creativity to another level. Their vanilla Funfetti cupcakes, adorned with sugar shards that looked eerily like glass, dripped with a red gel that mimicked blood, complimented the gorey-vibes of the event. Their red velvet cake boasted an Ouija board design, and their sugar cookies featured iconic horror movie monsters and slashers. Jennifer Sugar Cookies offered a unique experience with a "paint your own cookie" option, where you could artistically express yourself on a cookie canvas. The style of her cookies was very Funko-esq.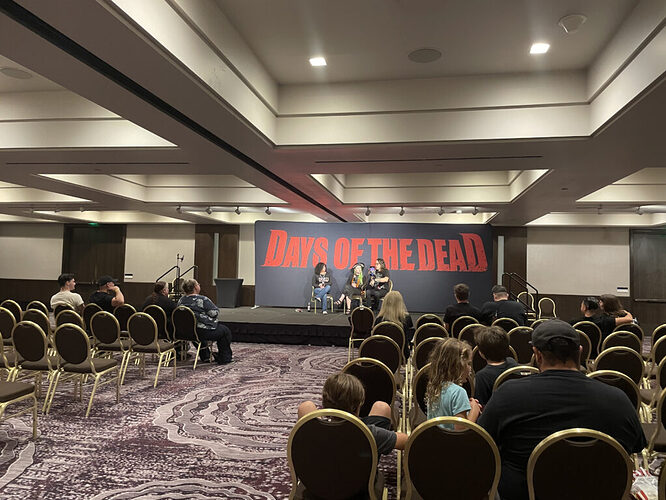 If you plan to attend next year, I'd recommend attending panels back-to-back to make the most of the experience. My drive to attend was the panels. I was particularly excited about The Grimm-Life Collective's panel on Friday, where the adventures twosome shared stories of the horror film spots they have visited, as well as their infamous horror collectibles. I also had a chance to learn more about the actors Mizuho Yoshida and Tsutomu Kitagawa, who donned the Godzilla suit in their panel. They shared their experiences of representing the famous kaiju monster.
The film festival, part of the Days of the Dead convention, was an international affair, screening various horror-themed shorts, features, and music videos. I missed out on Tom Arnold's "Dead Comedy Jam" on Friday and the VIP-Filmmaker Mixer, followed by the Dark Wave Dance Party on Saturday, all at the Hilton.
Days of the Dead Los Angeles 2023 was more than a horror convention. It was a unique blend of horror, sci-fi, and unexpected sweetness that made it a memorable experience.
Were you at Days of the Dead Los Angeles 2023? We'd love to hear your stories! And if you missed out, be sure not to next year.