Originally published at: DACIA ARNOLD TRANSPORTS READERS INTO HER DYSTOPIAN WORLDS - People of Con


Denver Pop Culture Con 2019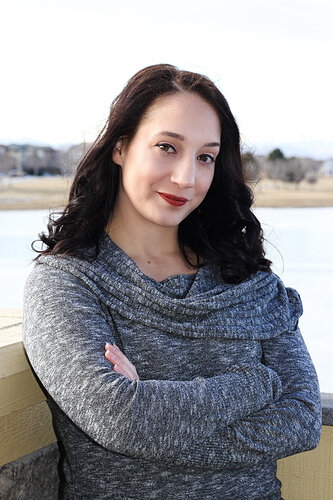 Author: Jorge Perez
Award-winning author and Army veteran Dacia M. Arnold spoke to People of Con about her work at Denver Pop Culture Con. A lover of dystopian, sci-fi, and dark fiction genres, this mother of two used the inspiration of her life to fuel her passion.
What type of genre appeals to you the most and why?
Dacia Arnold: I lean towards dystopian fiction just because I was in the military for 10 years. It is not imagined and not fantasized. I like to go through those scenarios of "what if" and how I would respond as a woman in today's society, which is scary. As a mom, however, I don't have to worry about myself; I have to worry about two little people. I like the idea of dystopian [themed work], so I love The Walking Dead, Hunger Games, Divergent, and Maze Runner. I love all those [works], and I feel like I would make it in any dystopia.
How did you handle military life when you were in the Army?
Arnold: I grew up with my dad being my hero. So Dad was a Sergeant Major; I wanted to find where he had been all my life because they're in the field, at work, and deployed, so I took a huge step to connect with my father by joining the Army and going off to war. I did feel a good relationship with my father, as we had something in common. I moved every three years since I was born, and I liked to reinvent myself, so in high school, nobody knew about the stupid stuff I did when I was in 5th grade. We were never in one place for too long. I didn't finish high school. I got my GED and moved away from my family. My parents were divorcing then, and I didn't know where I stood. Dad was headed back to Korea, and of course, Dad was my favorite, and Mom was not, as a moody teenager. After I did a year of Bible College, I joined the Army.
On your website, you make multiple posts about yourself, both positive and negative. During the negative times, what do you do for self-care?
Arnold: It took me a long time to discover meditation. I know about "changing yourself" talk. In the military, they have this resiliency training. We saw and did some pretty extreme things, especially working in Baghdad ER. They teach you to change your thought patterns and stuff like that. As a mom, perfectionist, and student, I work full-time and am pulled in different directions. It's easy to drop the ball, and it's easy to get consumed by the things I have to do. My mantra now is, "It's easy." So here it's easy to talk to people all day. Me, I am an introvert, and I am muscling through day two and day three, I don't know what it will hold. I keep repeating to myself, "it is easy to greet somebody," or "It is easy to say hello," or "It is easy to smile and communicate with people." So all these things I try to change are taking a moment to breathe and saying, "it is easy."
Your bio on your website stated that you enjoy "writing characters who are otherwise normal people with extraordinary abilities." Why is that?
Arnold: I grew up reading a lot of Dean Koontz, and it was kind of his thing to write about people who are particularly special, and they might not want it, so I really like that. When you read growing up, you pick out the things you like. I write many short stories too, and all of them are pretty extraordinary because I always feel like I have so many layers to my own story that I feel like everyone.
What inspired you to become an author?
Arnold: My dad was a writer. When he retired from the military, he finally published the novel he was working on in high school. It was dystopian science fiction. So when I left the military, I was like, "I am going to write a dystopian science fiction, and we are going to be a great team; we are going to have these great things in common," and it actually overshadowed our relationship and drove this huge wedge in between us. It's rough sometimes; I have conversations with my dad that we keep on other things besides work. They call my writing work, and I don't see it as work. I see it as exciting and new because I have only written for four years.
Where did you come up with the idea for the Diazem series?
Arnold: Diazem is a made-up word. "Dia" is the Latin word for "between," like the diaphragm muscle between your stomach and chest. "Zem" is a German word for ground. My book has a lot to do with electricity. Apparent power is kind of a pun, but it is an electrical term that refers to anything with power. In the novel, a quarter of the population has a gene that, instead of needing electricity through your heart and having your nerves fire or turn your food into energy, draws power from electricity so they absorb it. The diazem is an even rarer gene that our main character, Valerie Russell, has that is a check-in balance. She can release that stored energy in people like a grounding rod. The love handles are stored energy, and in the process of releasing stored energy, everyone digresses in age and is in peak physical condition. The reason why I did that is because I know a lot of females relate to it. You can't relate to a female veteran. There are not many of us since 1% of the population exists. I didn't want moms to be like I could never do this because I am overweight or not in shape, or I am old, so by reading this book, they could be like, "I could do this, and I would do this." That is exactly how I would react.
What is your favorite food and why?
Arnold: My favorite food since I was in kindergarten definitively has been pizza and macaroni and cheese!