Originally published at: https://geektherapy.org/cryptozoic-will-preview-and-sell-trading-cards-at-70th-philly-non-sports-card-show/


Author: Newsroom
Lake Forest, CA — April 25, 2019 — Cryptozoic Entertainment, leading creator of tabletop games, trading cards, and physical and digital collectibles, today announced that it will showcase trading card products at the 70th Philly Non-Sports Card Show, the twice-annual event for dealers, manufacturers, and collectors of non-sports trading cards held May 4-5 at Merchants Square Mall in Allentown, Pennsylvania.

The company will preview and give out Promo Cards for three upcoming sets: the super premium CZXTM trading card sets CZX Outlander and CZX Super Heroes & Super-Villains, as well as Steven Universe Trading Cards. In addition, Cryptozoic will sell Rick and Morty Trading Cards Season 2: Metallic Cards and Batman Classic "Blue Bat" Reissue Cryptomium Cards. Finally, attendees can check out a sneak peek of several trading card products that will be released later in 2019.

"Philly brings out the dedicated fans and dealers who are at the core of the non-sports trading card industry, so it's always an important event for our company," said Dustin Porras, Assistant Product Manager of Trading Cards at Cryptozoic. "We are excited to give out some special Promo Cards for our forthcoming CZX sets and tell everyone a little bit more about what makes them super premium. Plus, we'll be selling some exclusive packs and offering first looks at some of the amazing trading card products we have coming later this year."

Cryptozoic will give all attendees of the show CZX Super Heroes & Super-Villains Promo Card P4, featuring Jason Momoa as Aquaman, and Steven Universe Trading Cards Promo Card P6, featuring Peridot.
Additionally, Cryptozoic's box break promotion allows collectors to buy any box of the company's trading cards at the show and receive CZX Outlander Promo Card P5, which features actor Sam Heughan portraying Jamie Fraser. An attendee needs to take his or her box to the Cryptozoic table, where a representative will cut the seal and then give him or her the Promo Card. There is a limit of 24 box breaks per person per day, while supplies last.
Throughout the show, Cryptozoic will be at its table selling exclusive trading cards:

Rick and Morty Trading Cards Season 2: Metallic Cards: These cards are designed to look like business cards belonging to characters featured in Cryptozoic's latest Rick and Morty trading card set. The six convention-exclusive cards are Rick Sanchez (M4), Cromulon (M5), Birdperson (M6), Morty Smith (M7), the President of the United States (M8), and Unity (M9). Only 250 of each one were produced. Printed on high quality metal, each limited edition card retails for $10 or three cards for $25.
Batman Classic "Blue Bat" Reissue Cryptomium Cards: Featuring a distinctive blue bat logo, these cards are reissues of the classic 1966 trading cards that were inspired by the popularity of the Batman TV show and show campy, colorful images of Batman and Robin. They are printed using Cryptomium foil-board technology, creating a uniquely radiant holographic surface. Each three-card pack includes two Philly Non-Sports Card Show-exclusive "Blue Bat" cards (nine exclusive cards total) and one that appeared in a previous Cryptozoic set. Each pack will sell for $10.
Finally, Cryptozoic will preview its super premium CZX trading card sets CZX Outlander and CZX Super Heroes & Super-Villains, which have been largely shrouded in mystery since being announced in March, plus two other anticipated sets:

Steven Universe Trading Cards: The first set based on the hit Cartoon Network animated series includes a 72-card Base Set featuring images from Seasons 1-5, four Chase Sets, and randomly inserted authentic Autograph Cards and one-of-a-kind Sketch Cards. Signers include fan-favorite members of the voice cast like Zach Callison (Steven Universe), Kate Micucci (Sadie Miller), and Michaela Dietz (Amethyst), among many others.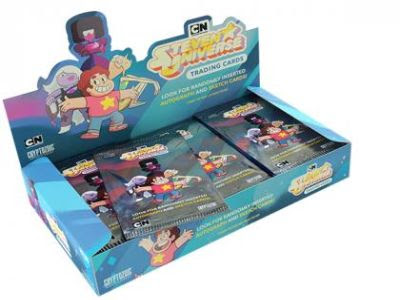 DC Bombshells Trading Cards III: Cryptozoic's third set based on DC Bombshells ups the retro style with unforgettable artistic interpretations of the 1940s-inspired characters. It includes a Base Set that utilizes Sketch Card art from the two previous DC Bombshells sets, four show-stopping Chase Sets, and randomly inserted Sketch Cards with one-of-a-kind art by some of today's hottest artists. Collectors can look forward to a Golden Goddess DC Lil Bombshells vinyl figure or even a one-of-a-kind, hand-painted DC Lil Bombshells figure in each hobby box.