Originally published at: https://geektherapy.org/cryptozoic-announces-release-of-dc-deck-building-game-crossover-pack-8-batman-ninja/


Author: Newsroom
Lake Forest, CA – October 29, 2019 – Cryptozoic Entertainment, leading creator of tabletop games, trading cards, and physical and digital collectibles, and Warner Bros. Consumer Products, on behalf of DC, today announced the November 6 release of DC Deck-Building Game Crossover Pack 8: Batman Ninja. Based on the Batman Ninja animated feature, this expansion for the popular DC Deck-Building Game series is set in feudal Japan and allows 2-5 players to become Super Heroes who battle Super-Villains in giant castles that come to life. Moreover, it introduces cards with the keyword "Ninjutsu" that provide effects that can be invaluable to victory, particularly when the Super-Villains merge to form one final challenge.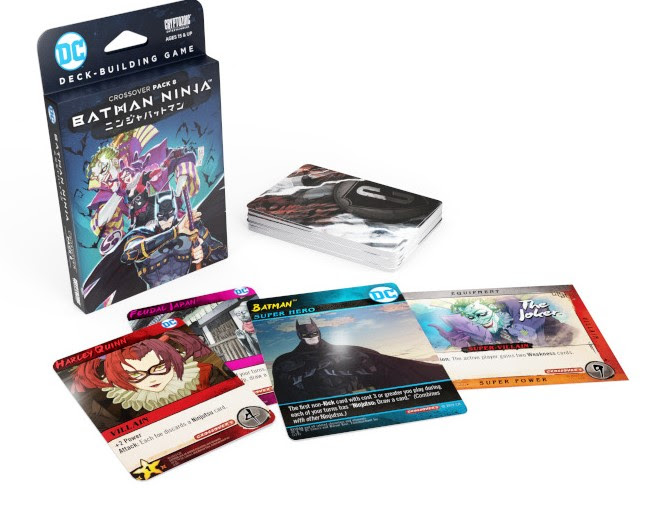 In this expansion, each player chooses to play as a DC Super Hero from the Batman Ninja film: Batman, Catwoman, Robin, Nightwing, Red Robin, or Red Hood. Then players shuffle in the pack's 21 new main deck cards into any DC Deck-Building Game base set, instantly adding all-new Equipment, Villain, Hero, Super Power, and Location cards.
Cards with the keyword "Ninjutsu" allow players to make strategic decisions as they can either play the card to get the standard effects or relinquish ownership of the card to get additional Ninjutsu effects when they need the extra help.
The Super-Villains in this expansion—The Joker, The Penguin, Poison Ivy, Deathstroke, and Two-Face—are unique in that each one has four "slots" on its oversized card where game cards are attached. When a player defeats one of them, he or she gains all the cards attached to that Super-Villain. These Super-Villains then flip over and fit together like a puzzle to form the final challenge: a mega-castle combining all five Super-Villains.
"The cards that attach to Super-Villains are determined by the players," noted Matt Hyra, the game's Lead Designer. "If you build up a great deck, you'll want to attach big cards to the Super-Villains, knowing you'll likely be the one to benefit. Conversely, if you get a slow start, you can attach low-cost cards so your foes profit less when they defeat the Super-Villains."
DC Deck-Building Game Crossover Pack 8: Batman Ninja will be available at retailers nationwide November 6 for a suggested retail price of $13. It requires a copy of the original DC Deck-Building Game or one of its standalone expansions—Heroes Unite, Forever Evil, Teen Titans, or Rebirth—to play.
Product Details:
Number of players: 2-5
Ages: 15+
Playtime: 30-45 minutes
Game Design by Matt Hyra & Nathaniel Yamaguchi
Contents Summary:

6 Oversized Batman Ninja Super Hero Cards
6 Oversized Batman Ninja Super-Villains Cards
21 Main Deck Cards
1 Rules Card
1 Randomizer Card
1 Divider

Requires a copy of DC Deck-Building Game or one of its standalone expansions: Heroes Unite, Forever Evil, Teen Titans, or Rebirth