Originally published at: Cryptozoic and Warner Bros. Consumer Products Announce Release of Wonder Woman: Princess of Themyscira Statue -


Author: Newsroom
Lake Forest, CA – September 27, 2019 – Cryptozoic Entertainment, leading creator of board games, trading cards, and physical and digital collectibles, and Warner Bros. Consumer Products, on behalf of DC, today announced the limited release of the Wonder Woman: Princess of Themyscira Statue at New York Comic Con, October 3-6, followed by a full retail release after the convention. Fans can come to Cryptozoic's Booth #244 at the Javits Center to purchase limited quantities of the marble-colored polyresin statue that reimagines Wonder Woman as a classical Greek sculpture.
Part of Cryptozoic's CZX line of super premium products, the meticulously crafted collectible measures 14 inches tall and draws inspiration from the famous Venus de Milo and the character's ties to Greek mythology. It features gold-accented versions of the DC Super Hero's iconic bracelets, lasso, and armor, as well as a removable spear. The rim of the shield is inscribed with Wonder Woman's classic epithet in Greek lettering: "Beautiful as Aphrodite, wise as Athena, swifter than Hermes, and stronger than Hercules." Each statue is individually numbered from 1 to 2500.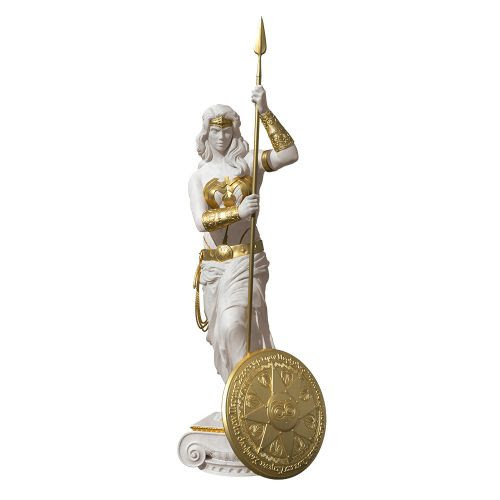 "Our goal with the Wonder Woman: Princess of Themyscira Statue was to create something that is a true work of art," said Amanda Barker, Associate Product Manager at Cryptozoic. "We flipped through lots of art history books and focused on every detail to create a statue that looks like it belongs in a museum, but is still instantly recognizable as Wonder Woman. We are absolutely thrilled with how it turned out and think it is an amazing addition to our line of CZX premium products."
Designed by Kyle Wlodyga and sculpted by Baktopur, it comes packaged inside a full-color closed box featuring images of the statue, as well as the Wonder Woman, DC, and CZX Logos. Also included is an exclusive CZX card that sports gold Deco Foil and shows the initial sketches for the figure.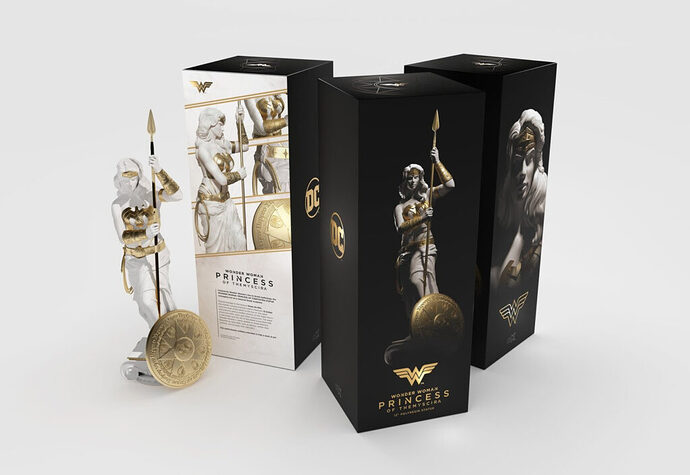 Wonder Woman: Princess of Themyscira Statue will be available first at New York Comic Con and then at retailers nationwide for a suggested retail price of $150.
Product Details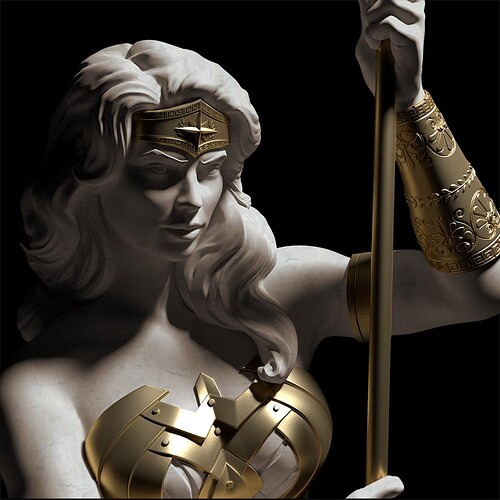 14-inch tall polyresin statue that reimagines Wonder Woman as a classical Greek sculpture (height measured from base of plinth to top of spear)
Part of Cryptozoic's CZX line of super premium products
Gold-accented versions of character's iconic accessories and removable spear
Full-color closed box packaging
Designed by Kyle Wlodyga and sculpted by Baktopur