Originally published at: Cryptozoic and Warner Bros. Consumer Products Announce Release of Wonder Woman Movie Collectible - People of Con


Author: Newsroom
Lake Forest, CA – July 8, 2019 – Cryptozoic Entertainment, leading creator of board games, trading cards, and physical and digital collectibles, and Warner Bros. Consumer Products, on behalf of DC, today announced the release of the Wonder Woman Movie Collectible at San Diego Comic-Con, July 18-21, followed by a full retail release after the convention. Fans can come to Cryptozoic's Booth #115 at the San Diego Convention Center for the first opportunity to buy the 8-inch vinyl figure.

Based on the recent portrayal of the iconic DC Super Hero in 2017's Wonder Woman and other films, the collectible features the character's heroic armor, sword, and lasso. The Wonder Woman logo acts as the figure's base.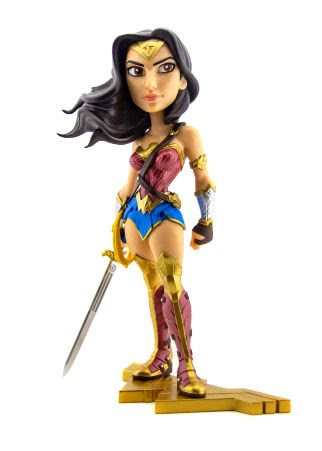 "In designing the figure, our main goal was to capture the qualities that helped Wonder Woman redefine Super Heroes on the big screen," said Amanda Barker, Associate Product Manager at Cryptozoic. "We made sure the details were accurate to the movie, but, more than that, we wanted to convey the power and sense of justice that made the character resonate with viewers around the world. We're really happy with how the figure turned out, and we think Wonder Woman fans will absolutely love it."

Designed by Pedro Astudillo and sculpted by Anders Ehrenborg, it comes packaged inside a display-worthy window box.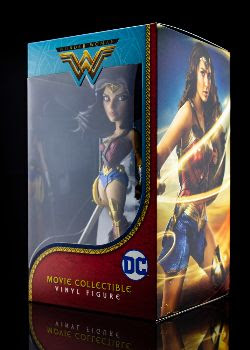 Moreover, Barnes & Noble and Cryptozoic are partnering to release Wonder Woman Movie Collectible Noir Edition, a limited variant of the figure. The Summer Convention Exclusive will release simultaneously at Cryptozoic's booth at San Diego Comic-Con and Barnes & Noble stores across the nation. Part of Cryptozoic's popular Noir Edition variant series, it sports a stylish gray color scheme, inspired by the timeless look of film noir. It will be available for $29.99.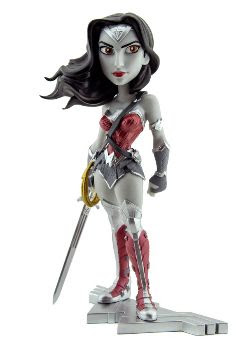 The core version of Wonder Woman Movie Collectible will be available at retailers nationwide for a suggested retail price of $29.99.
Product Details
8-inch tall vinyl figure based on movie portrayal of Wonder Woman
Movie-accurate sword and armor
Wonder Woman logo base
Display-worthy window box packaging
Designed by Pedro Astudillo and sculpted by Anders Ehrenborg
Wonder Woman Movie Collectible Noir Edition: Summer Convention Exclusive variant available exclusively at Barnes & Noble stores and from Cryptozoic