Originally published at: Cryptozoic and Warner Bros. Consumer Products Announce Release of Vinyl Terrorz: Freddy Krueger Vinyl Figure -


Author: Newsroom
Lake Forest, CA – May 22, 2019 – Cryptozoic Entertainment, leading creator of board games, trading cards, and physical and digital collectibles, and Warner Bros. Consumer Products today announced the release of the Vinyl TerrorzTM: Freddy Krueger vinyl figure. The 7-inch first figure in Cryptozoic's new horror-themed Vinyl Terrorz line depicts the villain from the A Nightmare on Elm Street film series with his iconic glove, fedora and burned face.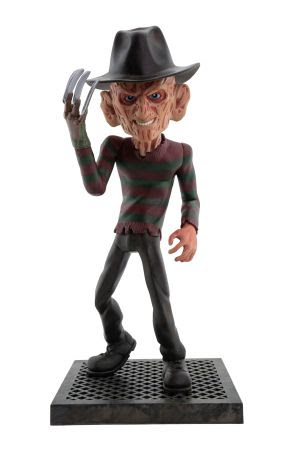 "In creating our new Vinyl Terrorz collectibles line, we knew that an enduring horror icon like Freddy Krueger was the perfect choice for the first figure," said Amanda Barker, Associate Product Manager at Cryptozoic. "Our goal was to capture the different aspects that have made him the stuff of nightmares for over 30 years. We started with his terrifying facial features and glove and then worked in all the other little details that make him distinctly Freddy."
Designed by Austin Haynes and sculpted by John Muniz, the 7-inch figure comes inside a display-worthy window box.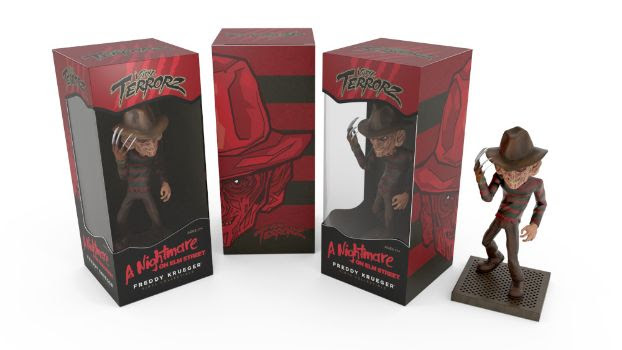 Moreover, there are two exclusive variants of the figure. Vinyl Terrorz: Freddy Krueger Shadow Edition is a Cryptozoic Exclusive that features a heavy dose of black, underlining Freddy's association with the darkness of night in the A Nightmare on Elm Street film series. In addition, the metallic blood-red eyes, hat, teeth, glove, and portions of his shirt highlight the unrelenting villain's desire to kill those that he targets while they sleep. Only 350 figures have been produced, making it extremely limited. It is currently available for preorder on the company's eStore for $40.
Vinyl Terrorz: Freddy Krueger Skull Variant is a Hot Topic Exclusive featuring a horrifying skull face inspired by the scene in the first A Nightmare on Elm Street movie in which Freddy's face is pulled off by one of his victims. It will be available only at Hot Topic stores for $29.99.
The core version Vinyl Terrorz: Freddy Krueger figure will be available at retailers nationwide for a suggested retail price of $29.99.
Product Details
7-inch tall vinyl figure of villain from A Nightmare on Elm Street film series
Display-worthy window box packaging
First figure in Cryptozoic's Vinyl Terrorz line featuring iconic horror characters
Designed by Austin Haynes, sculpted by John Muniz
2 variants

Shadow Edition (Cryptozoic Exclusive)
Skull Variant (Hot Topic Exclusive)