Originally published at: Cryptozoic and Warner Bros. Consumer Products Announce Release of Challenge of the Superfriends Card Game - People of Con


Author: Newsroom
Lake Forest, CA – April 15, 2019 – Cryptozoic Entertainment, leading creator of tabletop games, trading cards, and physical and digital collectibles, and Warner Bros. Consumer Products, on behalf of DC, today announced the April 17 release of Challenge of the Superfriends Card Game. Based on the classic animated TV series, the card game uses Cryptozoic's new Gryphon Engine to deliver fast-paced, easy-to-learn gameplay for 2-4 players. Taking on the roles of Superman, Wonder Woman, Aquaman, and Batman and Robin, players simultaneously reveal their Power Cards to defeat the Legion of Doom while trying to avoid traps set by DC Super-Villains.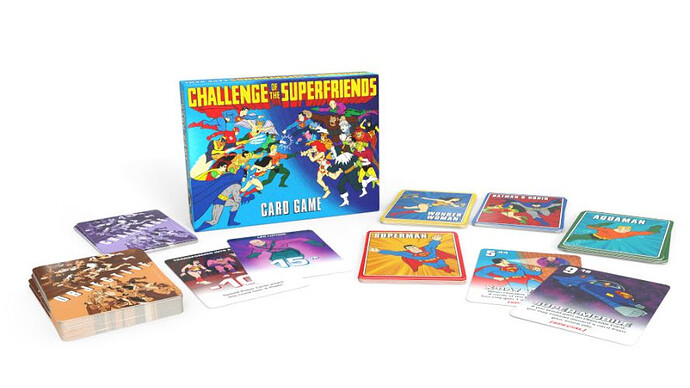 "Our team grew up as fans of the Challenge of the Superfriends TV show, so we're incredibly excited to launch our Gryphon Engine with a game featuring the characters and unmistakable style we love so much," said Adam Sblendorio, Vice President of Creative at Cryptozoic. "The game is intuitive and unfolds at lightning speed, since everyone plays their cards at the same time with no waiting around. It comes in a small box, but there's nothing small about the experience inside—the game offers tons of fun for gamers of all skill levels."
In Challenge of the Superfriends Card Game, players simultaneously each reveal a Power Card (valued 1-10) to determine the order to select available Objective Cards, which either feature DC Super-Villains that grant Victory Points or traps that take away points.
Power Cards show special abilities or allies with accompanying text that can change the outcome in surprising ways. In addition, players each have three Special Power Cards that are unique to their DC Super Hero. Some Power and Objective Cards call forth Challenge Cards that cause various negative effects that make winning more difficult.
The player with the highest total Victory Points after six rounds is the winner of a match and the first player who prevails in two matches is the winner of a game.
Challenge of the Superfriends Card Game will be available at hobby retailers across the U.S. starting April 17 for a retail price of $15.