Originally published at: Cryptozoic and Cartoon Network Enterprises Announce Release of Rick and Morty: Look Who's Purging Now Card Game -


Author: Newsroom
Lake Forest, CA – April 8, 2019 – Cryptozoic Entertainment, leading creator of board games, trading cards, and physical and digital collectibles, and Cartoon Network Enterprises today announced the April 17 release of Rick and Morty: Look Who's Purging Now Card Game. Based on the popular Season 2 episode of the hit Adult Swim TV series, the card game uses Cryptozoic's new Gryphon Engine for fast, easy-to-learn gameplay. Taking on the roles of Rick, Morty, and two other characters from the episode, 2-4 players simultaneously reveal their Weapon Cards to rack up kills during the annual "Festival."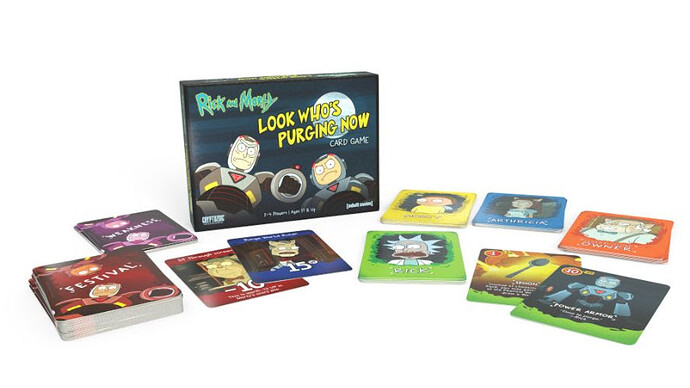 "With its over-the-top action, 'Look Who's Purging Now' is the perfect episode of Rick and Morty to pair with our Gryphon card game engine, which offers super fast gameplay that keeps all players constantly engaged," commented Adam Sblendorio, Vice President of Creative at Cryptozoic. "The game's mechanics are simple, so it's easy for anyone to pick up and play. At the same time, there are plenty of opportunities for strategy, as players vie to get an edge. The game provides big fun in a small box."
In Rick and Morty: Look Who's Purging Now Card Game, players simultaneously each reveal a Weapon Card (valued 1-10) to determine the order to select available Festival Cards, which either feature Purgers that grant Victory Points or memorable lines from the episode that take away points.
Weapon Cards show Rick's inventions or other items with accompanying text that can alter play in unexpected ways. In addition, players each have two Special Weapon Cards that are totally unique to their Character. Some Weapon and Festival Cards call forth Weakness Cards that cause various negative effects that make winning more of a challenge.
The player with the highest total Victory Points after six rounds is the winner of a match and the first player to be victorious in two matches is the winner of a game.
Rick and Morty: Look Who's Purging Now Card Game will be available at hobby retailers across the U.S. starting April 17 for a retail price of $15.
Product Details:
Number of players: 2-4
Ages: 17+
Playtime: 20 minutes
Gryphon Engine
Game Design by Matt Riddle and Ben Pinchback
Contents Summary:

82 Cards

4 Weapon Decks (10 Cards Each)
32 Festival Cards
10 Weakness Cards

Rulebook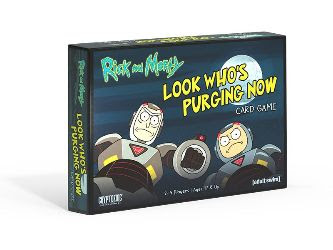 Rick and Morty is the critically-acclaimed, half-hour animated hit comedy series on Adult Swim that follows a sociopathic genius scientist who drags his inherently timid grandson on insanely dangerous adventures across the universe. Rick Sanchez is living with his daughter Beth's family and constantly bringing her, his son-in-law Jerry, grand-daughter Summer, and grand-son Morty into intergalactic escapades. Can the family survive Rick's insanity and all the chaos the universe throws at them?

Rick and Morty stars Justin Roiland (Adventure Time), Sarah Chalke (Scrubs), Chris Parnell (Saturday Night Live) and Spencer Grammer (Greek). The series is created by Dan Harmon (Community) and Roiland who also serve as executive producers.