Originally published at: CELEBRATING THE YEAR OF THE PIG AT DISNEY'S LUNAR NEW YEAR - People of Con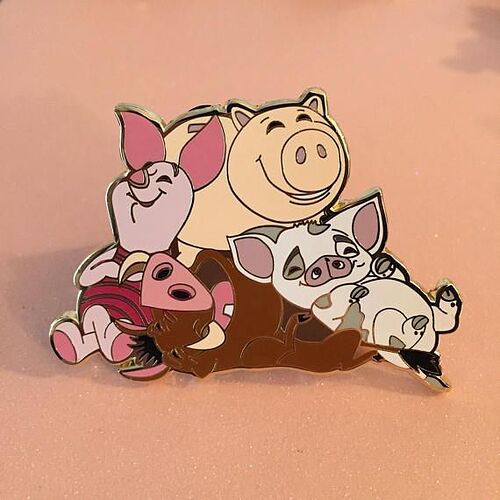 Author: Stefanie Bautista
Gong Xi Fa Cai! It's that wonderful time of year when red envelopes get passed out, families gather to eat tables and tables worth of food, and firecrackers fill the air. Yup, Lunar New Year is upon us, and to ring in The Year of the Pig, Disney's California Adventure transformed its plazas into a Lunar New Year festival fit for any emperor and empress! This event ran from Friday, January 25, to Sunday, February 17, 2019.
The Lunar New Year festival followed suit in the same style as Disney's Festival of Holidays, which showcases holiday foods from around the globe. Kiosks offered different featured Asian dishes and drinks, such as Banh Mi, Char Siu Bao, and Vietnamese Iced Coffee. Other popular featured foods included Firecracker Chicken and Crispy Shrimp over Fried Rice. For dessert, patrons had the choice of Green Tea Mandarin Tarts or a super cute Purple Yam Macaron in the shape of – you guessed it – Mickey!
DCA also offered a "Year of the Pig Sip and Savor Pass," which, for $39.00 ($36.00 with an Annual Pass), gets you six perforated tabs on a souvenir lanyard which you can redeem for any food item or drink, excluding alcohol. Each dish averaged about $7.50, so it was worth it to create a Disney-style "dim-sum" experience of your own!
An area was reserved in the Paradise Gardens to write new year's wishes, called the "Lucky Wishing Wall." The area was beautifully decorated with lanterns and flowers, encouraging guests to write their special message of hope, happiness, and health for the new year.
Adjacent to the Lucky Wishing Wall was the Paradise Garden Bandstand, which featured different Chinese musical performances throughout the day. The event's highlight was the Lunar New Year processional, helmed by Mulan. It included a beautiful Chinese Dragon dance, drummers, and even the Three Little Pigs dancing around in their Lunar New Year outfits.
Disney also offered limited edition collectibles for all you Disney merch fanatics. Lunar New Year Minnie Headbands, keychains, and shirts and jackets with Lunar New Year designs flew off the shelves. For all the pin traders, a limited edition Pua and Hei-Hei pin from Moana was made to celebrate The Year of the Pig. If you didn't get what you wanted this year, be prepared next year to arrive at the festival early, as these items won't be available again for purchase!
It was wonderful to see Disney embracing Asian culture and seeing the streets of DCA decked out in red lanterns and banners featuring classic Disney characters in traditional Chinese attire. This was a great move towards inclusion, especially for the park patrons who call California home. The Golden State has the largest population of Chinese Americans, with San Francisco being the home of the oldest Chinatown in the nation.
It is fitting that Disney's California Adventure celebrates the rich heritage of people who helped make it its great state.
The popularity of the Lunar New Year event at Disneyland seems to be growing year after year. For those who missed it, fear not! Disney's official website has announced it's already scheduling the celebration for the Year of the Rat early next year. We hope to see you there!
You can read more about the Lunar New Year celebration at Disney's Official Website, and be sure to follow us on Instagram for more Disney events!