Originally published at: BENEFIT COSMETICS ROLLS TO THE 50S WITH THE ROLLER LINER DINER - People of Con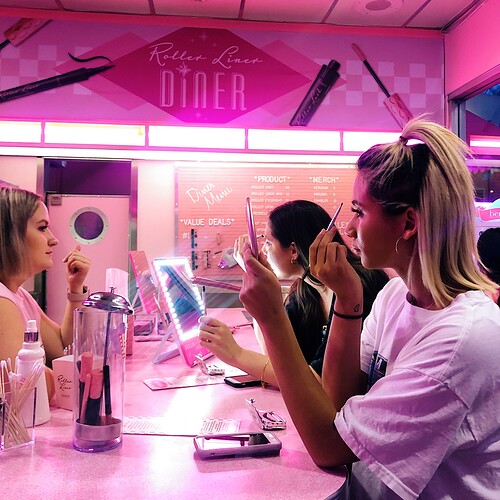 Author: Stefanie Bautista
Melrose Avenue, Los Angeles, CA – This past week, makeup geeks of all ages were able to celebrate the launch of Benefit Cosmetics' newest products: the Roller Liner and Roller Eye-Bright Pencil, at a pink pop-up diner right in the heart of Hollywood. The 50's themed space featured a mini-makeover bar available for patrons to try and buy their new products and purchase signature Benefit fan favorites. The "Roller Liner Diner," as it was called, was brought to life by transforming a former Johnny Rockets restaurant.
Not only did the pop-up serve as a mini-makeover haven, but it also had numerous photo-ops: a sweet pink motorbike, a super cute outdoor patio decorated with 50's makeup-themed memorabilia, and a fake dishwashing station to live out your "Stepford Wife" dreams. Milk LA also served ice cream to enjoy in and around the diner. Lastly, a mini crane game could be played with hopes of snatching up any of the featured Benefit products.
Benefit makeup artists were also on deck throughout the diner, helping people serve delicious looks, including the ice cream, making this the sweetest launch of a new product LA has ever seen. Retro-style fans could not stay away as there were numerous opportunities to flaunt their fashion and get inspiration for classic makeup looks. Coupled with a playlist of classic love songs of the 50s, The Roller Liner Diner was a fully immersive retro-makeup experience that was delightfully unique and exciting!
Unfortunately, this first-ever pop-up from Benefit was only in LA from Saturday, January 12th to Sunday, January 20th, 2019. As it was the last day of the event, patrons could easily walk in and snap a photo or twelve, try out some new makeup, and even hang out and enjoy ice cream on the patio with no trouble at all. For a street as busy as Melrose, this was the best-case scenario for anyone looking to find a new way to enjoy beauty and experience something only Angelenos could!
Benefit's new product, the Roller Liner Eyeliner, perfectly matches the Roller Lash Curling Mascara. Their new Roller Eye Bright Pencil is essential to accentuate any eye look. The Roller Liner Eyeliner ($22.00 in black or brown) and Roller Eye Bright Pencil ($20.00) are now available at benefitcosmetics.com. These products are worth the investment for any makeup guru or cosplayer.
Though this event has ended, due to the success of this product launch, we at POC are sure they'll have more fun product launches in the future!