Originally published at: https://geektherapy.org/2nd-annual-seaside-oddities-expo-returns/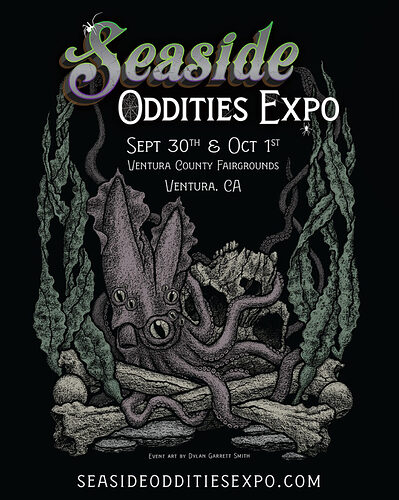 Author: Newsroom
Ventura, CA – After an incredible premier event in 2022, with over 2,000 people attending the one day event, the Seaside Oddities Expo is back in just 2 weeks!! This now 2-day event takes place September 30th + October 1st, 2023 at the Ventura County Fairgrounds in Downtown Ventura, California, located at 10 West Harbor Blvd.
Get ready to dive into the world of oddities at the 2nd Seaside Oddities Expo! This year, we're taking things to a whole new level with not one, but TWO exhibit halls filled to the brim with the most fascinating and macabre curiosities you can imagine! This all ages event will feature 100 spooky vendors, including dark artists and photographers, taxidermy, ephemera, vintage halloween dark clothing, items of the occult and much more. 
Immerse yourself in the eerie atmosphere as you browse through the halls, discovering hidden gems and peculiar artifacts that will leave you in awe. Hosted by the incomparable Vita DeVoid – who will be performing twice each day. Plus, we've lined up an incredible lineup of special guests and performers who will keep you entertained throughout the day! This year's Special Guests include The LA Ghostbusters, The Graveyard Mafia Hearse Club, Blanca's Bewitching wolf babies, Mr. Floats, the Spooky Professor and more! 
Whether you're a seasoned collector or simply curious about the darker side of life, this is the event you don't want to miss! So mark your calendars, gather your fellow curious souls, and get ready for a weekend of extraordinary experiences at the 2nd Seaside Oddities Expo!