Originally published at: https://geektherapy.org/2022-halloween-preview/


Author: Newsroom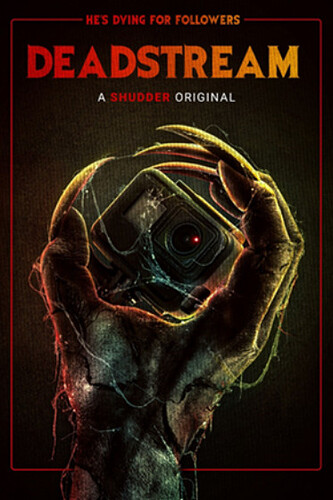 Streaming on Shudder October 6
Deadstream follows a disgraced internet personality who attempts to win back his followers by livestreaming one night alone in a haunted house. But when he accidentally pisses off a vengeful spirit, his big comeback event becomes a real-time fight for his life.
With Deadstream, a rare horror comedy as frightening as it is funny, the Winters have boldly announced themselves as exciting emerging talent ready to take the genre scene by storm. The work of the filmmaking duo can next be seen in a segment from Shudder's hotly-anticipated V/H/S/99, the latest installment in the celebrated found-footage horror series, which premieres out of TIFF's Midnight Madness later this month. Deadstream is produced by Joseph and Vanessa Winters, alongside cinematographer Jared Cook and actress Melanie Stone, who also star in the film. The Winters co-edited the film, with Joseph contributing to music for the project as well. Directed, Screenplay,and Produced by: Joseph and Vanessa WinterCast: Joseph Winter, Jared Cook, and Melanie Stone
V/H/S/99 Segment: "To Hell and Back"
Streaming on Shudder October 20
In V/H/S/99's segment "To Hell and Back," Joseph and Vanessa finally take the V/H/S universe where it's never been. Two documentarians decide to witness and document a live séance and end up getting sent to hell. They must work with the local residents and use their own intellect to try to find a way home and save their lives from an eternity in hell.
Directed and Screenplay by: Joseph and Vanessa WinterProduced by: Goldbloom, Brad Miska, David Bruckner, Radio Silence (Chad Villella, Matt Bettinelli-Olpin, & Tyler Gillett; Ready or Not, Scream), and James HarrisCast: Joseph Winter, Archelaus Crisanto, and Melanie Stone
THE CONNERS Wednesday, October 26th at 8PM ET/PT on ABC
(and can be viewed the next day on demand and on Hulu)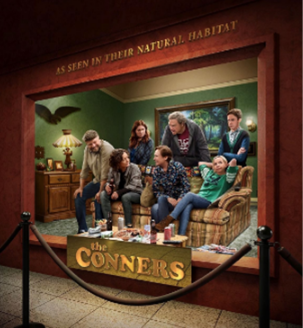 ABOUT THE EPISODE"Book Bans and Guillotine Hands" – It's Halloween at the Conners, and Dan encourages the family to decorate the house. When everyone is feeling too busy and overwhelmed to help, Becky tries to take matters into her own hands. Meanwhile, Harris takes a stand on an issue that ruffles a few feathers in Darlene's new neighborhood on "The Conners," WEDNESDAY, OCT. 26 (8:00-8:30 p.m. EDT), on ABC. (TV-PG, DLV) Watch episodes on demand and on Hulu the day following their premieres. ABOUT THE CONNERSThe Conners continue to face the daily struggles of life in Lanford. This iconic family—Dan, Jackie, Darlene and Becky – grapples with parenthood, dating, financial pressures and aging in working-class America. Through it all—the fights, the coupon cutting, the hand-me-downs, the breakdowns—with love, humor and perseverance, the family prevails. The series stars John Goodman as Dan Conner, Laurie Metcalf as Jackie Harris, Sara Gilbert as Darlene Conner, Lecy Goranson as Becky Conner-Healy, Emma Kenney as Harris Conner-Healy, Ames McNamara as Mark Conner-Healy, and Jay R. Ferguson as Ben. "The Conners" is executive produced by Tom Werner, along with Sara Gilbert, Bruce Helford, Dave Caplan, Bruce Rasmussen and Tony Hernandez. The series is from Werner Entertainment.
Follow "The Conners" (#TheConners) on Instagram, Twitter and Facebook.
QUANTUM LEAPMonday, October 31st at 10 p.m. ET/PT on NBC
(and can be viewed the next day on Peacock)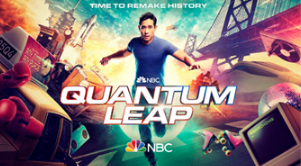 ABOUT THE EPISODE"O Ye of Little Faith" – Ben leaps into a priest who has been called to assist a family in crisis on Halloween night. As he delves into mysterious and inexplicable events, he's forced to muster all his resources as a scientist before time runs out.
MONDAY, Oct. 31st (10 p.m. ET/PT), on NBC. Watch episodes on Peacock the day following their premieres. ABOUT QUANTUM LEAPSynopsis: It's been nearly 30 years since Dr. Sam Beckett stepped into the Quantum Leap accelerator and vanished. Now, a new team, led by physicist Ben Song (Raymond Lee), has been assembled to restart the project in hope of understanding the mysteries behind the machine and the man who created it.
Everything changes, however, when Ben makes an unauthorized leap into the past, leaving the team behind to solve the mystery of why he did it. At Ben's side throughout his leaps is Addison (Caitlin Bassett), who appears in the form of a hologram only Ben can see and hear. She's a decorated Army veteran who brings level-headed precision to her job.

At the helm of the highly confidential operation is Herbert "Magic" Williams (Ernie Hudson), a no-nonsense career military man who has to answer to his bosses who won't be happy once they learn about the breach of protocol. The rest of the team at headquarters includes Ian Wright (Mason Alexander Park), who runs the Artificial Intelligence unit "Ziggy," and Jenn Chou (Nanrisa Lee), who heads up digital security for the project.
As Ben leaps from life to life, putting right what once went wrong, it becomes clear that he and the team are on a thrilling journey. However, Addison, Magic, Ian and Jenn know that if they are going to solve the mystery of Ben's leap and bring him home, they must act fast or lose him forever.
Martin Gero serves as executive producer along with Dean Georgaris, Don Bellisario, Deborah Pratt, Chris Grismer, Steven Lilien and Bryan Wynbrandt.
Universal Television, a division of Universal Studio Group, will produce in association with I Have an Idea! Entertainment, Belisarius Productions and Quinn's House Productions.

Cast: Raymond Lee, Caitlin Bassett, Ernie Hudson, Mason Alexander Park, and Nanrisa Lee.
Follow @NBC (#QuantumLeap)
Stitcher's 2 Spooky 2 HandleEpisode 4: Friday, October 28thListen HERE
About the Episode: TITLE: The Final BoysDESCRIPTION: It's the final episode of 2 Spooky 2 Handle, and the stakes are high! Mano and Betsy debate how one becomes a final boy or girl and predict how they'd both die in a horror movie. They also check in with their favorite monsters including Ray Ray & Baby Oopsies (Oscar Montoya), and the MOM-bies (mom zombies). Finally, it's time to reveal once and for all the coolest, scariest and hottest horror villain in our SCARY BOWL!

About the Podcast: Show description: Are you tingling 4 terror? Slutty 4 slashers? Freaky 4 fright?! Mano Agapion and Betsy Sodaro are bringing you their classic, stupid love of all things horror all month long to Earwolf Presents! There will be possessed dolls, haunted houses, updates from your favorite monsters, and the ultimate villain showdown in our March Madness style SCARY BOWL!
Follow @Earwolf on Twitter for more #2Spooky2Handle updates!
Housing Complex CFour-Part Series Premiered October 1
Housing Complex C centers on Kimi (Huynh), who lives in a small housing complex in the sleepy seaside town of Kurosaki. But trouble seems to follow Kimi wherever she goes, and soon, horrific incidents begin to occur…is an ancient evil stalking the residents of Housing Complex C?

The half-hour series is directed by Yuji Nara with the script and original concept by amphibian. The animation studio is Akatsuki. Housing Complex C is executive produced by Jason DeMarco (Warner Bros. Discovery) and produced by Maki Terashima-Furuta (Production IG USA).
Toonami recently celebrated 25 years on-air and continues to be a pioneer in the anime space by featuring action programming and English language anime premieres, as well as co-producing original anime productions.
Listen to the trailer here
The Weird PlaceCongratulations and welcome to The Weird Place. From executive producer Dana Carvey, The Weird Place is an episodic sci-fi comedy adventure that will blow your mind. From manipulative aliens to time-traveling pirates to a power-hungry mad man with a magic globe, The Weird Place has no shortage of action-packed supernatural occurrences Website: TeamCoco.comInstagram: @TeamCoco | @TeamCocoPodcasts Facebook: @TeamCoco Twitter: @ConanOBrien |@TeamCoco | @TeamCocoLive YouTube: /TeamCocoTikTok: @TeamCoco