So I'm short on time but Josue reminded me to post here (days ago!! Single mom problems). I think some of my thoughts have a bald even more since the post on Facebook but I'm gonna copy paste for now.
I think the short version is I am in the same mindset as Josue, geek therapy as a mindset, (not modality) and I feel like the support for why incorporating fandom and geek life is more than just "a thing clients do" lies in the crossover between Henry Jenkins' work in researching participatory culture, crossing with the tenants of existentialism and logotherapy, Victor Frankl's man search for meaning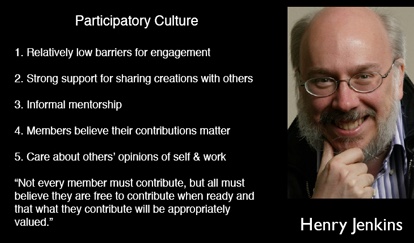 I'll be honest I'm super nervous to post! Trying to gather as many resources as possible, and I'm gonna try not to ramble (hahaha). In the last 10 years or so I've been working through reading/combining geek elements with therapy and I've noticed specifically for me personally even in my worst of times I have returned to fandoms for belonging and purpose. Divorce, loss of my oldest child, Infertility- all of those sparked big upticks in fandom participation. I have two tattoos, one is for my decreased daughter and one is for a fandom.
Since many of you here will know Victor Frankl, going to combine those theories with Henry Jenkins to explain what I mean about specifically drawing mental health applications from fandom. I believe that geek culture/fandoms meet two of the basic needs that logotherapy in Victor Frankl and humanistic therapy talks about, belonging AND purpose and I'm not the first person to make that awareness. I also think fandoms uniquely does so by being almost free to join and participate in (as Jenkins work describes) other than gaming which is still unique in that it's truly participatory belonging compared to football watching with a crowd of fans.
Jenkins describes the difference in what he calls participatory culture, aka geek fandoms, as being distinctly different from fans of something like a sports team or even a musician. Fandoms have relatively low barrier to entry, usually free, create a sense of belonging that many of us may have not found in other places when we were younger and continue to find that rich experience in adulthood, The experience of being seen and heard, and the idea that we continue to share to the actual experience, as compared to passive fandom of the football game
He also talks specifically for female geeks that culture fandom's allow for restorative opportunities, transformative opportunities, in fanfiction and the like.
I believe logotherapy and humanism dove tail nicely with lots of other theories like cognitive behavioral therapy (and the research says so) and I'm hoping to use discussions about actual fandom's, not just specific geek elements like how to find yourself in Star Wars, but how does participation in your fandom community provide love, belonging and purpose especially when one is missing those things or tends to pull away from them in times of depression/anxiety etc